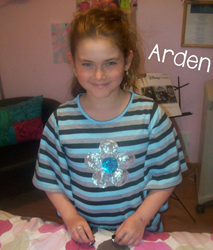 New Hope, MN (PRWEB) August 08, 2013
Total Comfort Heating & Air Conditioning, a leading HVAC contractor in New Hope is pleased to announce that they have completed a project for a young girl who suffers from multiple chronic health issues.
Arden Schlegel is 10-year-old girl who has spent a lot of her life in pain. Arden has Primary Adrenal Insufficiency and she is allergic to nearly everything from food, medication and things in the environment. From a very young age, she was unable to eat nuts, dairy, soy, fish, turkey, varieties of fruits and vegetables. She is not able to go outside due to hives and welts caused by grass, weeds, trees, and even the sun.
In her home, Arden has to make sure she has minimal exposure to mold, dust, and many fabrics like carpet, and curtains. These allergies mean that she has to be on constant alert and, of course, she can't spend more than a few minutes a day outside. Not the normal life of a child.
The Schlegel family can never have their windows open which means that the indoor air quality needs to be constantly regulated. Arden's parents, Heather and Rob Schlegel, are constantly working to provide Arden with the best care and the most comfortable environment possible. Arden's body can't regulate heat so her environment needs to be at a safe temperature at all times. Arden is also asthmatic which requires very healthy air standards to avoid asthmatic attacks, which requires the humidity level in their home needs to be maintained at low level which is a challenge in the Minnesota summers.
Gary Katz, the owner of Total Comfort Heating and Cooling, spent time researching the best possible solution to keep the temperature regulated as well as the humidity levels in check. Katz put a lot of thought into the air-conditioning system. He wanted it to be sized perfectly so the cooling cycles would run longer, therefore decreasing the humidity.
Scott Horn, Scott Koshiol, Piotr Nasiadka and Steve Hawes donated their personal time for the design and installation and Gary Katz donated all of the equipment. Because of the team's generosity, Total Comfort was able to install a new furnace, air conditioning system and an air exchanger. The Total Comfort team also added several vents to make sure that the air is circulating properly. The temperature and air in their home is now cool, comfortable, and circulating, helping Arden around the clock.
Arden's parents said, "It is because of special people like you [Gary and the team at Total Comfort] that Arden is a living testament to human kindness and goodness that isn't always seen in the world we live in. Thank you."
Total Comfort Heating & Air Conditioning is a company that strives to be more than just a HVAC contractor, they work to positively impact the community they serve by giving back and providing superior service and care for their customers. For more information, visit their website, http://www.tcomfort.com/.
About the Company:
Total Comfort is a highly-trained and professional heating, cooling, and indoor air quality provider and contractor serving residential homes in Minneapolis and St. Paul, Minnesota. In 1956, three brothers got the entrepreneurial spirit and A-ABC Refrigerator Repair Company was born in Minnesota. As this heating and cooling company grew, additional services were added until A-ABC was the complete HVAC and appliance service solution. That spirit continues today, guiding the second generation, as they continue to innovate and research the best alternatives for their clients - in and near the Minnesota area.
With their focus on superior solutions and world-class service, A-ABC re-branded the company as Total Comfort to better communicate their passion: optimal solutions, every time. They renamed themselves Total Comfort not only because they go to great lengths to have their equipment create a comfortable environment in customers' homes - but also because interactions with them should be comfortable as well. With 50 years of history under their belt, customers can count on Total Comfort to be there - solving HVAC conundrums with fresh ideas and proven implementation. Other heating and cooling contractors can do it cheaper but nobody can do it better than Total Comfort.