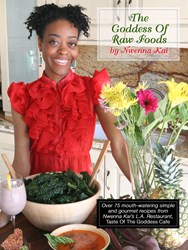 Philadelphia, PA (PRWEB) August 10, 2013
LiveWell Movement founder and raw foods expert Nwenna Kai has launched her corporate wellness program with ModSpace, one of the largest global suppliers of modular construction and temporary modular space. Nwenna will be using her unbelievably advanced skills in raw foods and detox to teach a 5-week raw foods workshop for ModSpace's employees. Through this influential program, Nwenna will enlighten her students on the health benefits of raw foods and how to live a more sustainable lifestyle. Students will be engaged in lessons on the 7-Day Raw Foods Cleanse, juicing, and raw meals, such as juice, salad, and pizza recipes. Nwenna expects her students will leave with a broader sense of what raw foods can be and how they can incorporate raw ingredients into their daily diets. Shopping tips, superfood recipes, and blending techniques are among the many subjects that Nwenna will share with her class. The workshop will highlight the advantages of raw food diets, including nutritional benefits and the importance of enzymes. Ultimately, Nwenna Kai will lead her students into the nutritious and bountiful world of raw foods.
Nwenna Kai is an award-winning and world-renowned wellness entrepreneur, author, and raw foods expert. Nwenna is the creator and founder of Taste of the Goddess Café in Los Angeles, and author of the book "The Goddess of Raw Foods." Over the years, she has aided in helping thousands lose weight and live healthier lifestyles with her LiveWell Movement. Nwenna is also the creator of the extremely popular 7- Day Raw Foods Cleanse and continues to spread health and happiness across the globe. In addition, she has appeared on many networks promoting her movement, including E-Entertainment, The Travel Channel, The Philadelphia Tribune, Self Magazine, Heart & Soul Magazine, NBC's The Ten Show, & Purely Delicious Magazine.