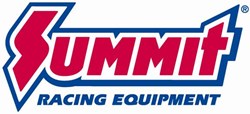 Tallmadge, OH (PRWEB) August 09, 2013
Summit Racing now stocks Fluidampr Harmonic Dampers for Flathead Ford V8, POR-15 Fuel Tank Sealer, and Painless Performance ClassicBraid Wire Wrap for street rod and classic truck enthusiasts.
FLUIDAMPR HARMONIC DAMPERS FOR FORD FLATHEAD V8
Fluidampr harmonic dampers use a a highly viscous silicone fluid to squash crankshaft-killing vibration at all RPMs—a big plus with engines that have modifications like stroker cranks and high-lift solid cams that add stress at high RPM.
POR-15 U.S. STANDARD FUEL TANK SEALER
Designed to combat the corrosive effect of today's ethanol-laced fuels, POR-15 U.S. Standard Fuel Tank Sealer coats and seals the inside of your tank, forming a barrier that is impervious to gasoline and alcohol blends. U.S. Standard Fuel Tank Sealer is non-flammable and enviromentally safe.
PAINLESS PERFORMANCE CLASSICBRAID WIRE WRAP
ClassicBraid gives modern wiring harnesses the look of vintage cloth-covered wiring. The wrap is split laterally to slip easily over wiring, splices and connectors. This design eliminates the need for tape or zip ties.
Complete Release
Summit Racing Equipment
SummitRacing.com
1-800-230-3030