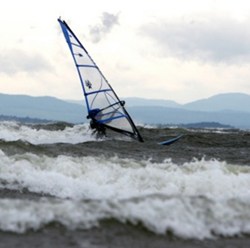 Plattsburgh, NY (PRWEB) August 08, 2013
This September the Adirondack Coast Visitors Bureau, a division of the North Country Chamber of Commerce, and the City of Plattsburgh are pleased to welcome the American Windsurfing Tour (AWT) to the shores of Lake Champlain. AWT, presented by Trade Wind Events, is going into its 4th year and has previously held events throughout California, Hawaii, Mexico and Peru.
September 28th and 29th Lake Champlain on the Adirondack Coast will be filled with free nonstop windsurfing action and fun for all skill levels including:

Freestyle feature
Bump-n-Jump
Slalom/Formula racing
Windsurfing, kiteboarding and paddleboard exhibition
Cumberland Bay long distance race
Family Fun Race
Demos and clinics
Appearances by Pros Kevin Pritchard and Tyson Poor
Pancake breakfast with proceeds supporting the Imaginarium Children's Museum
Awards, prizes and raffles
Evening music and BBQ
For more information on the American Windsurfing Tour and the Lake Champlain Windsurfing Festival, visit americanwindsurfingtour.com/new-york.