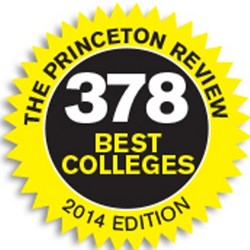 Purchase, NY (PRWEB) August 10, 2013
Purchase College, SUNY is one of the nation's best institutions for undergraduate education, according to the just released The Princeton Review's 2014 guide The Best 378 Colleges.
Only about 15% of America's 2,500 four-year colleges and only four colleges outside the U.S. are profiled in the book, which is The Princeton Review's flagship college guide. The guide includes detailed profiles of select colleges with rating scores in eight categories, based on surveys of 126,000 students attending the colleges.
In its profile of Purchase College, the guide says students cite the college's film, music, creative writing, graphic design, and generally "artsy atmosphere" as major draws.
Students report being "in love" with the college's diverse courses of study, according to the review.
The guide also says Purchase students "appreciate their education's 'affordability,'" and say that Purchase leaders "don't sacrifice personal attention for cost value, creating an 'efficient, helpful and…very welcoming community.'" The guide quotes students as saying that many choose "the academically sound" Purchase College over private options as it offers "the same likeliness of obtaining a suitable and successful job/career as a private school."
Students polled by The Princeton Review attribute much of "this overall fantastic academic experience" to "highly motivated, engaged, and knowledgeable" professors "who are dedicated and willing to do anything to ensure the success of their students."
According to students surveyed, "Think Wide Open is the near unanimous summary of the Purchase College experience, both academically and socially." Located 25 miles north of Manhattan, Purchase College is nationally renowned as one of the leading institutions to pair conservatory programs in the arts with liberal arts programs. Purchase College's School of the Arts includes the Conservatories of Dance, Music, and Theatre Arts, and School of Art+Design, while liberal arts and sciences programs are offered in the Schools of Film and Media Studies, Humanities, and Natural and Social Sciences, and in interdisciplinary bachelor of arts programs. All professors either work professionally in their academic fields or conduct research.
According to Dennis Craig, vice president of enrollment management and marketing at Purchase, "To be selected as a top school among various guides and ranking systems is a testament to the dedication of our faculty, the diversity of our student body, and the fact that our affordability allows students with the drive to succeed to receive an excellent education."
Inclusion in guide is based on information obtained by institutional data surveys, says Robert Franek, The Princeton Review's senior VP/publisher and the guide's author. "We also take into account input we get from our staff, our 35-member National College Counselor Advisory Board, our personal visits to schools, and the wide range of feedback we get from our surveys of students attending these schools," he says. "Purchase College offers outstanding academics, which is the primary criteria for our choice of schools for the book."
About The Princeton Review
Founded in 1981, The Princeton Review (http://www.PrincetonReview.com) is a privately held education services company headquartered in Framingham, MA. The Company has long been a leader in helping students achieve their education and career goals through its test preparation services, tutoring and admissions resources, online courses, and more than 150 print and digital books published by Random House, Inc. The Princeton Review delivers its programs via a network of more than 5,000 teachers and tutors in the U.S.A., Canada, and international franchises. The Company also partners with schools and guidance counselors worldwide to provide students with college readiness, test preparation and career planning services.