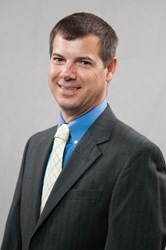 "Peter is not only our CFO but our Vice President of Operations… his ability to successfully balance and advance these two heroic tasks makes him (Peter) prime material for CFO of the Year," said Tom Flottman, CEO, Flottman Company
Cincinnati, Ohio –
Northern Kentucky (PRWEB) August 08, 2013 -- Flottman Company, Inc. (http://www.FlottmanCo.com) a provider of marketing solutions, miniature folded pharmaceutical literature and commercial printing, is honored to announce that Peter Flottman our CFO and VP of Operations has been selected as a finalist for the Cincinnati Business Courier's 2013 CFO of the Year Award. This award recognizes CFOs who make a difference in their companies and communities based on corporate financial growth, overcoming significant business challenges, team leadership and the demonstration of superior management and planning skills. In addition, CFOs are reviewed based on their volunteerism, philanthropy and community involvement. This year, there were hundreds of CFO nominated and only twenty-two were tagged as finalists.
Flottman Company's President, Sue Flottman Steller and CEO Tom Flottman nominated Peter Flottman for his tireless dedication to the family business and his continuous desire to do more. "Peter is not only our CFO but our Vice President of Operations… his ability to successfully balance and advance these two heroic tasks makes him (Peter) prime material for CFO of the Year," said Tom Flottman.
Flottman has been a lifelong employee at Flottman Company working his way up the ranks serving for six years as a bindery operator, moving to press supervisor, sales and later production coordinator and chief financial officer. During Flottman's tenure as CFO, the Flottman Company doubled its facility size, has seen over two million dollars in capital investments, record increases in sales reaching over $6 million in 2012 and has seen continual profits that have been reinvested into the company based on Peter Flottman's recommendations and strategic planning.
Flottman volunteers for the St. Joseph School as a member of the endowment committee, special events coordinator and director of the school's youth soccer programs. Flottman is instrumental in the Flottman Company's community focused Green initiatives and charitable support of United Ministries through Flottman Company's annual holiday food collection program. Peter Flottman also volunteers for the Printing Industry of Ohio and Northern Kentucky (PIANKO), the Printing Industry of America, the National Association for Printing Leadership and the Specialty Pharmaceutical Association.
Winners of the Cincinnati Business Courier's CFO of the Year Award in five categories (Public Company, Large Private Company, Small Private Company, Large Nonprofit and Small Nonprofit) will be announced at a reception at Cincinnati's Music Hall on August 29, 2013.
###
About the Flottman Company: http://www.FlottmanCo.com
The Flottman Company headquartered in Northern Kentucky; is a full-service digital and graphics communications firm founded in 1921. The company provides a wide array of strategic marketing, design and printing services to enable clients to "Communicate Brilliantly." Flottman Company specializes in pharmaceutical printing and manufacturing of miniature folded inserts. The Green Business Council awarded Flottman Company a Green Business Award. Flottman received the 2012 and 2013 TriState Business Success Award. The Printing Industries of Ohio and Northern Kentucky named the Flottman Company Printer of the Year. The University of Cincinnati honored Flottman with the Tri-State Family Business of the Decade Award. The Flottman Company is privately held, family owned and currently run by the third generation of Flottmans: Tom Flottman, Sue Flottman Steller and Peter Flottman.
*Like us on Facebook, follow us on Twitter and learn more about Flottman Company at our new website: http://www.FlottmanCo.com.