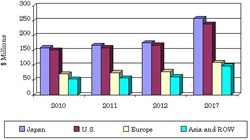 (PRWEB) August 11, 2013
According to a new technical market research report, The Global Market for Intravascular Ultrasound Tools and Ancillary Equipment (Report code: HLC145A) from BCC Research (http://www.bccresearch.com), the global market for intravascular ultrasound technology products is projected to reach $483.7 million in 2012. BCC Research expects the market to reach $702 million by 2017, and register a five-year compound annual growth rate (CAGR) of 7.7% for the period 2012 to 2017.
Intravascular ultrasound (IVUS) is an imaging technology/methodology that enables viewing of arteries from inside out by generating real-time, cross-sectional images. Intravascular ultrasound imaging technology (IVUS) holds enormous potential in terms of its ability to address unmet requirements in the earlier detection and intervention of coronary artery diseases. Moreover, the popularity of this technology has surged due to its proven advantages (as indicated by some international clinical studies) over traditional angiography. The use of IVUS in left main disease, chronic total occlusion, lower limb peripheral artery diseases, and for guiding angioplasty are some of the key opportunity areas for this technology.
However, while an aging population and rising chronic disease (such as cardiac disease) population is driving the market's growth, the high cost of IVUS devices/products coupled with the growing need of cost-effective treatment worldwide is restricting its market growth. As a result, IVUS is still an underutilized and underpenetrated technology, whose real potential is yet to be exploited.
In terms of market maturity standards, IVUS is not a mature technology (except in Japan). On worldwide terms, it is experiencing slow-to-moderate growth and is yet to be universally adopted. The Japanese market for IVUS products, as a segment, was valued at $176.1 million in 2012. This market is expected to reach $257.4 million in 2017 and register a CAGR of 7.9%. The U.S. market for IVUS products was valued at $168.7 million in 2012 and is expected to reach $238 million in 2017, to register a CAGR of 7.1%.
According to BCC Research, product launches, partnerships, collaborations and agreements, and geographic/sales expansion are some of the key growth strategies adopted by market players. The report further states, the IVUS market as an investment worthy area with reference to the growth of positive clinical data, product innovations and underexploited potential.
This study examines the issues that are driving and constraining the growth of the IVUS market. Based on both quantitative and qualitative data, this report provides market participants with insights for understanding the current and changing IVUS market outlook. The data provided in this report can help users understand the market segments (products, applications and end users) that are expected to grow at higher rates, and study the factors that driving and restricting growth, and examine the key opportunity areas for this technology.
This report will be of interest to IVUS product developers and manufacturers, IVUS market start-ups, academic and commercial research organizations, consulting firms, and medical imaging market information database developers.