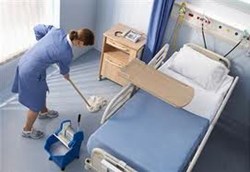 This research represents a significant advancement in clinical procedures. These tests should help to provide an objective measurement, assisting in avoiding human error during diagnosis.
Bolton, UK (PRWEB UK) 13 August 2013
According to the BBC, a test has been developed, which determines which patients are most at risk from the Clostridium Difficile (C.diff) infection (1). This new research is believed to be highly beneficial, with the potential to reduce the number of hospital acquired infection deaths.
Described as "Accurate and simple" the test could revolutionise health services; benefitting both patients and hospitals around the world (1). Dr Ray Sheridan, consultant physician from the Royal Devon and Exeter NHS Foundation Trust, has used the test, making the following statement, extolling its virtues–
"This really simple and quick tool, which any junior doctor could use in the middle of the night, quickly and easily flags up those who need a speedy and intensive treatment regime, or more senior help. The quicker we get on with the right treatment for the right patient the better their chances of recovery are. This is a tool that should be used in every hospital in the UK as soon as possible: if we did so we would save more lives"
The unique four-point test, examines easily measurable clinical variables, which when evaluated predict the death risk C.diff presents to patients (3); this accurate prediction allows for life saving measures to be pre-emptively put in place, reducing the risk the infection poses to the patient.
The clostridium difficile infection (CDI) is a bacterial infection, which affects the digestive system, causing diarrhoea, fever and abdominal cramps in sufferers (2). Characterised as a hospital acquired infection, those who have stayed in, or visited a healthcare facility are most at risk (2).
Commenting on the research, Asons Solicitors Executive, Laura Williams –
"This research represents a significant advancement in clinical procedures. These tests should help to provide an objective measurement, assisting in avoiding human error during diagnosis.
At Asons, we often see cases where clients have made hospital acquired infection claims. Tests such as these can ensure the infection doesn't escalate, avoiding complications and a situation where making a clinical negligence claim becomes appropriate.
In the event that you consider yourself to have been subject to a hospital acquired infection, you must seek legal advice as quickly as possible. Taking action can prevent the same situation from reoccurring, helping others to avoid injury in future.
If you, or someone you know, have suffered as a result of medical negligence then you may be able to make a claim for compensation. Asons Solicitors deal with claims for hospital acquired infection compensation on a regular basis, you can contact them on: 0844 850 1062 or you can fill out their claim form at http://www.asons.co.uk
-Sources-
(1) BBC News, 'C.Diff Test to Predict Patients Most at Risk' (02/08/13)
bbc.co.uk/news/uk-england-devon-23551118
(2) NHS Choices, 'Clostridium difficile'
nhs.uk/Conditions/Clostridium-difficile/Pages/Introduction.aspx
(3) Science Daily, 'The Four-Point Test to Predict Death Risk from C. Difficile.' (01/08/2013)
sciencedaily.com/releases/2013/08/130801233102.htm
About Asons Solicitors:
Asons Solicitors is a Bolton-based law practice that specialises in personal injury and industrial disease claims. Founded by brothers Imran Akram and Kamran Akram, Asons Solicitors has developed to become a young and dynamic law firm that delivers practical solutions to clients in times of difficulty. Their continued focus on their staff has seen them awarded with the Investors in People "Gold Award"; which is reflected in the professional and personable approach they take in working with clients. They strive to grow and to develop, and their supportiveness and attention to detail ensures that their clients use them time and again.
For further information contact:
Email: info@asons.co.uk
Website: http://www.asons.co.uk