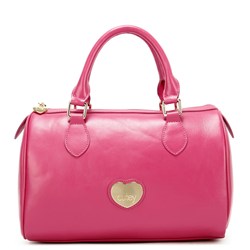 Breast cancer is the most common cancer in the UK. Around 55,000 people are diagnosed with breast cancer each year. Of these about 400 are men.
Wrexham, Wales, United Kingdom (PRWEB UK) 15 August 2013
A new line of luxury leather handbags has launched with Love at the core of its brand. Brand "Cutey" has launched a designer line of bags made from the highest quality, ethically sourced Italian leather available.
Affected personally by illness in the family, breast cancer is something that founders Chris & Ashley can closely relate too. Therefore they have pledged to donate a 10% of all year one profits to Breast Cancer UK to help support their efforts. They are simply going bags for breasts!
Cutey is small UK based Artisan Company. Since launching on Valentine's Day 2013 Cutey has gone from strength to strength booming in popularity, amassing over 400,000 followers on Twitter, and 15,000 fans on Facebook.
The methodology behind Cuteys brand is love, caring and passion. Inspired by the most important thing in life, the ones you love. The cutey brand represents romance, loving & luxury. With all of it's bags named after the most romantic cities & capitals of the world including; Paris, Bruges, Rome, Tuscany, New York, St. Lucia, Vienna, Venice & Florence.
The bags, made from the highest quality ethically sourced Italian leather, are beautifully crafted featuring some signature Cutey marks such as the Cutey heart shapes zip lock, interior design cutey heart pattern and the cutey signature locking device, giving the bag the luxury feel you deserve from a designer handbag.
Cutey offer a free UK Delivery service as well as worldwide dispatch, with next day dispatch on all items. The Cutey luxury leather bags are the perfect gift for a loved one on yourself, and you don't need to feel as guilty in indulging knowing the profits are going to a great cause.
You can see more information about the cutey bag range at http://www.cutey.co.uk/bags .