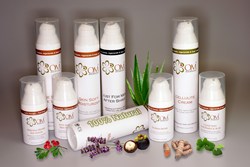 we can simply choose the direct, unmolested source from fresh, vibrant plants
Apex, NC (PRWEB) August 09, 2013
Made entirely from plants and minerals, OM Ayurvedic™ skin care and personal care products, from its inception, have been free of all animal based ingredients. "Sun is the energy source for all living organisms on our planet and all organic material on earth is a derivative of the captured sunlight through photosynthesis" asserts Sudhir Shah, the vegan founder of OM Ayurvedic™ . "Instead of settling for second-hand energy and depleted nutrients processed through animal body, we can simply choose the direct, unmolested source from fresh, vibrant plants" Mr. Shah adds.
Besides significant therapeutic benefits, there are also strong ethical considerations in rejecting animal based ingredients from cosmeceuticals. Additionally, OM Ayurvedic™ has always opposed a common practice of animal testing in the beauty industry and all their products are cruelty free in addition to being vegan. While this has been the commitment at OM Ayurvedic™ from the beginning, it is necessary to work for adoption of recognized alternative test methods that can validate the safety of the Cosmeceuticals without animal testing. OM Ayurvedic™ continues to be a leader in the development and promulgation of these alternative test methods.
Made in USA, the OM Ayurvedic™ brand of beauty, health and wellness products are part of Choice All Natural, Inc. a manufacturer of truly natural, vegan consumer products. Inspired by the ancient system of Ayurveda, these products utilize the purest plant based, whole ingredients and are free of any petro-chemicals or toxic preservatives. Additionally, the company supports sustainability, organic and fair-trade suppliers and utilizes eco-friendly airless packaging.