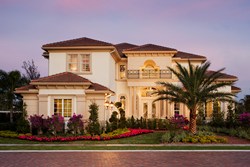 Orlando, FL (PRWEB) August 08, 2013
Toll Brothers, the nation's leading builder of luxury homes, invites buyers to enjoy a complimentary trip to Florida when they purchase their new dream home at any Toll Brothers community in Florida. Toll Brothers' exclusive Fly and Buy program offers buyers an exciting opportunity to visit their desired community and experience the best of luxury living while touring magnificently appointed model homes and sampling Florida's inviting lifestyle.
The benefits of this special offer include complimentary luxury accommodations and reimbursable travel expenses. Buyers may choose their dream home from a variety of single-family and carriage home designs, with move-in ready homes also available. They will also experience Toll Brothers' exceptional quality and customer service first-hand.
The Fly and Buy program will reimburse buyers within the U.S. up to $2,000 USD and buyers from outside the U.S. up to $4,000 USD toward their travel expenses when they purchase a new Toll Brothers home in Florida. The program is available for a limited time only and applies to homes purchased in a Toll Brothers Florida community within 90 days of their visit.
In addition to a wide selection of quality homes, Toll Brothers offers hundreds of personalization options that enable buyers to create the perfect home for themselves and their families.
"Since 1967, Toll Brothers has been known for its quality, integrity, value, extraordinary design, and financial stability," said Ed Weber, Toll Brothers Florida Regional President. "Our Fly and Buy program provides a great opportunity to sample the Toll Brothers lifestyle, meet with our sales teams, and discover why the Sunshine State is a great place to call home."
The Fly and Buy program is available for a limited time only and is subject to change at any time without notice and certain restrictions apply. Interested home buyers should contact a Toll Brothers sales representative or visit TollBrothersFlorida.com to learn more.
About Toll Brothers
Toll Brothers has set the standard for integrity, value, timeless design, and exceptionally high quality, and is considered one of the smartest and best-managed companies anywhere. The Company was named 2012 Builder of the Year by Professional Builder magazine (http://www.housingzone.com) and is the first builder to win this award twice. Toll Brothers is honored to have won two other coveted awards in the home building industry as well: America's Best Builder and the National Housing Quality Award. The Company was also ranked #1 in 2011 and 2010 in Financial Soundness, Long-Term Investment, and Quality of Products/Services in FORTUNE magazine's annual World's Most Admired Companies survey in the home building category.* Toll Brothers proudly supports the communities in which it builds; among other philanthropic pursuits, the Company sponsors the Toll Brothers - Metropolitan Opera International Radio Network, bringing the Met opera to neighborhoods throughout the world. For more information, visit TollBrothers.com.
Toll Brothers, Inc., a Fortune 1000 Company, is the nation's leading builder of luxury homes. The Company began business in 1967 and became a public company in 1986. Its common stock is listed on the New York Stock Exchange under the symbol "TOL." The Company serves move-up, empty-nester, active-adult, and second-home buyers and operates nationwide.
Toll Brothers builds luxury single-family detached and attached home communities; master planned luxury residential, resort-style golf communities; and urban low-, mid-, and high-rise communities, principally on land it develops and improves. The Company operates its own architectural, engineering, mortgage, title, land development and land sale, golf course development and management, home security, and landscape subsidiaries. The Company also operates its own lumber distribution, and house component assembly and manufacturing operations. The Company acquires and develops commercial properties through Toll Commercial and its affiliate, Toll Brothers Realty Trust, and purchases distressed loan and real estate asset portfolios through its wholly owned subsidiary, Gibraltar Capital and Asset Management.
This is not an offering where prohibited by law.
*From the March 21, 2011 and March 16, 2010 issues of FORTUNE magazine.