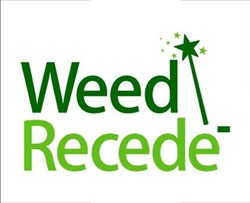 The U.S. Patent office recently approved a Utility Patent for the Innovative Weed Recede tm Weed Barrier Mulch Bag System.
Jacksonville, Florida (PRWEB) August 09, 2013
Inventors of Weed Recede (tm), new eco-friendlier weed barrier mulch bags, have qualified in the first round of the Walmart Get on the Shelf contest, and they need your help to change how landscaping is done.
Bob and Jim Hawkinson strive to improve the retail mulch/ground cover industry with a new, easier to use, and eco-friendlier packaging product. Their recently patent approved weed barrier mulch bag system is a very cool and innovative eco-solution (package as product). By making the bags from compostable materials (compostable plastic blends and long-term papers with proprietary coatings) for organic mulch, and heavy-duty, long-lasting weed cloth for inorganic mulch types, they expect to help eliminate the estimated billion plus plastic bags destined for the U.S. waste stream every year. "It really doesn't get any easier than this," says Bob. "Once people see how easily it works, they always ask, where can I buy it....well, hopefully if we win the competition, we can tell them....at Walmart." Weed Recede weed blocking mulch bags are an ingenious, simple, eco-friendlier way to make a Saturday mulch job a breeze. To use, place the entire bag in the bed, pull two strings, fold the bag out flat, and push the mulch over the bag. That's all there is to it!
Weed Recede is fast, helps block weeds, helps retain moisture, reduces waste, can help reduce herbicide use, and is just beautifully simple.
There are quite a few other innovative product applications that Weed Recede™ provides. These include bags for paver underlayment, organic mulch, rock, shell, rubber, Home Foundation Rock Barrier Border Bags to help keep organic mulch off of homes, and the Plant through Grow Bags that are shown on the Walmart Get on the Shelf contest.
They seriously need your vote to make it happen though. Go to http://www.weedrecede.com see all their videos, and vote daily through September 2nd or vote by going to https://getontheshelf.walmart.com/product/14c0/WEED-RECEDE-tm The products with the most votes go on to the finals where the ultimate winners get "On the Shelf" at Walmart. There is no cost to vote.
Weed Recede™ is made in the U.S. and partners with http://www.ChallengeEnterprises.org (Physically and Mentally challenged individuals) to manufacture their product.
We would be honored if folks put us on their daily reminder list and voted everyday through September 2nd says Bob.