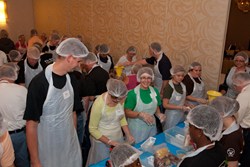 Spectrum Training Services, Inc. will participate in the Northbrook Chamber of Commerce's Annual Meal Packing event on August 28th at the Renaissance Chicago North Shore Hotel
Highland Park, IL (PRWEB) August 13, 2013
Spectrum Training Services, Inc. will participate in the Northbrook Chamber of Commerce's Annual Meal Packing event on August 28th at the Renaissance Chicago North Shore Hotel with multiple companies. Volunteers will package over 48,000 meals for distribution to the Northbrook Food Pantry, the Northern Illinois Food Bank as well as other area food banks, in a fun and energized setting. Participants are asked to donate two hours of time in either a late morning or afternoon shift.
Locally the Northfield Township Food Pantry serves nearly 600 families from Northbrook and surrounding communities. This year the Pantry has experienced a 4.5% increase and is serving on average nearly 1600 individuals every month. Last year the meals packed and donated were consumed within less than a week. Spectrum Training Services is excited to participate in this great cause for the first time this year. For more information on the event please visit http://www.northbrookchamber.org/2013/07/help-the-chamber-pack-48000-meals-for-area-food-pantries/.
About Spectrum Training Services
Spectrum training services, a state partner to the Occupational Safety and Health Administration (OSHA), provides Occupational Safety and Health Training to employers and employees in the construction, general, and healthcare industry. Spectrum's safety and health training in workplace safety is shown to reduce occupational injury, illness rates and workplace-related deaths. The company offers 10-Hour OSHA training for employees and 30-Hour OSHA training for employers, managers, supervisors, human resources personnel, and risk management managers. Its mission is to provide effective training that leads to a decrease in job site injuries, accidents, and deaths.
For more information on our company please visit http://www.illinoisoshatraining.com/