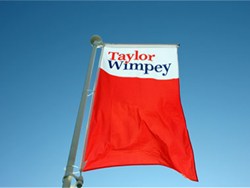 We are delighted that British businesses have started to see a turnaround in fortune after a few difficult years
Darlington (PRWEB UK) 15 August 2013
Britain is making a slow and steady economic recovery from triple-dip recession, with home-grown production rising by 1.1% and manufacturing increasing by 1.9 per cent, (Office for National Statistics, 06 August 2013)
Harrison External Display Systems provide leading companies in key economy-building industries with attractive and widely recognisable display systems, such as flags, flagpoles and banners.
The automotive industry has boasted one of the biggest growths, helping the country's recovery come quicker than expected as the transport sector boasts an increase in productivity.
Harrison's are proud to be one of the driving forces behind some of the UK's forecourt marketing efforts and the important aesthetics of their premises.
Harrison EDS, as a British manufacturer and supplier to all types of institutions and industries, have also seen a marked improvement in demand correlating to that of its customers, leading to an increase in production and profitability.
Another industry making great strides in recovery so far in 2013 is housing development, with Taylor Wimpey showing over 11% increase (Taylor Wimpey, 31 July 2013) in revenue in the first half of 2013 compared to 2012.
Redrow is another of the UK's leading residential property developers, whose shares have risen sharply throughout 2013 (Redrow Homes Plc, August 2013) after an impressive few months of development and construction.
Harrison EDS is a proud supplier of flags and flagpoles to Taylor Wimpey and Redrow Homes in an effort to improve the exposure and attractiveness of their show homes and current constructions and market their properties.
Harrison EDS also provided the London 2012 summer Olympic Games with flags and flagpoles, which, along with the birth of the Royal baby, the Queen's Diamond Jubilee and Andy Murray being the first British man to win Wimbled for 77 years, has probably been the cause leading to Britons being more happy and less anxious,(The Independent 30 July 2013) the official life satisfaction survey revealed, as well giving the economy a huge boost and, importantly, instilling a great sense of national pride in the United Kingdom of Great Britain and Northern Ireland by seeing the fluttering Union Flag on every corner.
Andrew Hobson, Managing Director of Harrison External Display Systems, the UK's leading Flagpole and Flag manufacturer, said: "We are delighted that British businesses have started to see a turnaround in fortune after a few difficult years.
"We realise that the difficult times aren't necessarily behind us, but we can gauge from our own performance and the performance of our customers that we are starting to head in the right direction with regards to economic recovery and profitability.
"It is one of our prime objectives to promote British skill, and keep British people employed, which is why we are always happy to work alongside British companies to help encourage a healthy work ethic and help other businesses succeed by providing them with excellent marketing materials.
"Of course, Harrison EDS also supply an enormous range of bespoke flags, flagpoles and banners around the world to help promote production, manufacturing and a sense of national pride in any country."
Harrison offers a great variety of flags, flagpoles, banners and event displays of varying size and materials to suit any location, use and budget, whether it is for corporate or domestic purposes. Help the British economy recover further in 2013 by supporting British manufacturing and construction and buying British!
Harrison EDS Customer testimonials:
Redrow Homes:
"Redrow Homes have been purchasing flags and flagpoles from Harrisons for a number of years without any problems. We believe their products are high quality and they always offer us an excellent customer service."
Taylor Wimpey:
"Taylor Wimpey is one of the UK's largest house builders and is very pleased to have Harrison External Display System's as one of its national suppliers of flags and flagpoles. Please visit the Taylor Wimpey new homes website for more information."
Notes to Editors:
Harrison External Display Systems has been the leading UK manufacturer of high quality flags, flagpoles and event products for over 40 years. Boasting a huge variety of in house products allow them the flexibility to deliver on time to suit any budget. As well as the Olympics and Paralympics, Harrison's have also supplied flags and flagpoles to The Mall, Horse Guard Parade, Victoria Monument, many UK Government departments including the recently developed Home Office site in London, MoD sites and other prestigious events including the World Expo and Asian Games.
All the above named companies are Harrison EDS clients, and the figures are publicly available and have been published on their respective websites.
Contact 01325 390195 or sales@harrisoneds.com or Connect with us on Social Media at:-
Facebook - http://www.facebook.com/pages/Harrison-External-Display-Systems/249245128533514
Twitter - @HarrisonEDS - twitter.com/HarrisonEDS
Google+ - https://plus.google.com/105302042626062793478/posts
LinkedIn - http://www.linkedin.com/company/harrison-external-display-systems