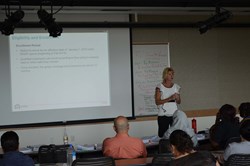 Loma Linda, Calif. (PRWEB) August 08, 2013
Loma Linda University Health will receive a grant of $990,000 from Covered California to conduct outreach and education programs on how, starting in 2014, Californians can access affordable health care coverage under the federal Patient Protection and Affordable Care Act.
Loma Linda University Health (LLUH), in partnership with Community Clinic Association of San Bernardino County, is one of 48 lead organizations receiving grant awards totaling $37 million from Covered California to help residents access affordable health care coverage.
The selected organizations will reach nearly nine million people and more than 200,000 small businesses in California's 58 counties. Covered California will focus its outreach on 5.3 million Californians in need of individual insurance, about half of who may be eligible for financial assistance with their premiums.
"We are very excited to build on partnerships with organizations that have trusted relationships in diverse communities throughout the state," says Peter V. Lee, executive director of Covered California. Covered California is charged with creating a new insurance marketplace in which individuals and small businesses can get access to health insurance, as provided by the federal health care law.
"Loma Linda's strategy to use provider educators that will champion Covered California has great outreach potential," says Sarah Soto-Taylor, Covered California deputy director of community affairs. "Our partnership with Loma Linda will help raise awareness about our new health care marketplace in San Bernardino County among the medical professionals who come in contact daily with consumers who may benefit from premium assistance."
The grant will allow LLUH and the Community Clinic Association of San Bernardino County to pursue an outreach plan, developed under the leadership of Dora Barilla, associate director of the LLUH Institute for Community Partnerships, to reach out to diverse, uninsured populations within the county.
The plan includes staging group meetings, attending community events, coordinating with community clinics, and educating health care providers about the new California Health Benefit Exchange, a major component of the federal health care law.
"Key to successful implementation of the Patient Protection and Affordable Care Act is education, and we are very honored to have been selected by Covered California to help educate and assist the residents of San Bernardino County gain access to affordable health care," says Gerald Winslow, Ph.D., vice president for mission and culture at LLUH, and director of the Institute for Health Policy and Leadership, the organizational entity responsible for administering the grant.
Photo Caption: At a recent training session held at Loma Linda University Health, training consultant Susan Ladua answered questions from representatives of various organizations that received grants from Covered California about the Patient Protection and Affordable Care Act.
About Loma Linda University Health (LLUH)
Loma Linda University Health includes Loma Linda University's eight professional schools, Loma Linda University Medical Center's six hospitals and more than 900 faculty physicians located in the Inland Empire of Southern California. Established in 1905, LLUH is a global leader in education, research and clinical care. It offers over 100 academic programs and provides quality health care to 40,000 inpatients and 1.5 million outpatients each year. A Seventh-day Adventist organization, LLUH is a faith-based health system with a mission "to continue the teaching and healing ministry of Jesus Christ."