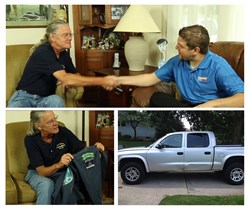 To be recognized as a veteran after all this time is really special for me -- Kurt Myers, Vietnam War-era Navy veteran
Trevose, PA (PRWEB) August 08, 2013
Kurt Myers, a 65-year-old Vietnam War-era Navy veteran from Cinnaminson, NJ, was selected as third winner of a free auto body repair job in CollisionMax's "Metal of Honor Project," the company announced today.
CollisionMax of Cinnaminson will repair Mr. Myers' silver 2003 Dodge Dakota pickup truck, which has large, rusting front-end and driver-side dents plus numerous dings and scratches throughout. "It's amazing," said Mr. Myers upon being notified of the award. "I really have never won anything this big before, and to be recognized as a veteran after all this time is just really special for me."
Mr. Myers enlisted in the Navy in 1968, at the height of the Vietnam War and anti-war protests across the country and around the world. He served two tours on a minesweeper and ducked exploding mortar shells several times while on shore in the Vietnamese harbor city of Danang.
When he returned to civilian life in 1972, the war and protests were still raging, and veterans were made to feel ashamed of their service, "so you couldn't just admit that you were a veteran," he said. As a result, he got rid of his uniform and most of his service memorabilia, except for his dog tags, service medals and a jacket he had custom made featuring patches commemorating his service tours. "That jacket hasn't seen the light of day until today," he said in an interview in his home.
Mr. Myers said when he bought his truck used in 2005 "it was my baby," but with its accumulating damage and 170,000 miles "it started to become just a tuck." He said he's so excited that it's going to be reconditions "words can't describe it." Although he has collision insurance for the vehicle, he said now that he and his wife are retired it's been difficult to come up with the deductible.
Through its Metal of Honor project, CollisonMax will give away auto body repairs to 11 US military veterans, one per month for each of its locations in the Delaware Valley. The company chooses the winner from nominations it receives from the public on the project's web site, http://www.metalofhonorproject.com. The site is now accepting nominations for its Oxford Valley, PA, shop.
"The Metal of Honor Project is our way of saying thank you and honoring the men and women of our armed forces who put their lives on the line for all of us," said Jim Tornetta, CollisionMax and president and CEO.
In New Jersey, CollisionMax operates shops in Blackwood, Cinnaminson, Glassboro, Marlton, Pennsauken, Sicklerville and Westmont. In Pennsylvania, it has repair centers in Oxford Valley, Warminster and two in Northeast Philadelphia (both on West Grant Avenue). Its Cinnaminson shop's address is 811 Route 130 South, Cinnaminson, NJ 08077.
For information about CollisionMax, please visit http://www.collisionmax.com .