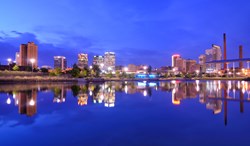 "We want all customers to feel comfortable about airport parking..."
Birmingham, AL (PRWEB) August 16, 2013
Greenbee Parking, a young and dynamic airport parking solutions firm, has announced a series of new parking options at discounted and cheap Birmingham airport parking rates. For travelers using the busy Birmingham (BHM) airport regularly, finding a secure parking space and getting one for an affordable rate have both been impossible tasks in the last few years. Birmingham has a rich history and has been a major hub for industry, trade and commerce for the last hundred years. It has maintained this tradition and is still a major business hub in the south-eastern US and a major financial center of the nation. Apart from this, the city ranks high due to its excellent medical community and universities both of which draw numerous people here around the nations. The statistics, which also include a heavy tourist flow, show a high volume of air traffic round the year which also translates to high ground traffic and therefore demand for parking space. Greenbee Parking has effectively stepped in to ensure that these demands are met and at very affordable rates so that there is 100% customer satisfaction.
"We want all customers to feel comfortable about airport parking, no matter whether they are long term customers or just booking for the short term," said Christine Cooper – Marketing Coordinator, Greenbee Parking. "Along with the ease of booking and parking we also want them to know that great service can be affordable, hence the new offers like the cheap Birmingham airport parking rates. It is the Greenbee brand of service which shows that we care for our customers."
Birmingham-Shuttlesworth International Airport Parking Information
Birmingham-Shuttlesworth International Airport is the largest airport to serve the state of Alabama and one of the top 75 airports in the country. In 2012 it served over 2.8 million passengers connecting with 40 cities and with over 136 daily flights flowing in and out of the airport. The airport not only caters to the Greater Birmingham area but also the surrounding southeastern cities of Alabama and Central Alabama. Though called an international airport it does not have any international flights operating from here. But the heavy volume of daily domestic flights makes it a very busy airport. It is also a joint civil-military facility which means that it sees more than its fair share of ground traffic. The shortage of airport parking space had led to increasing ground congestion and steep parking rates, both of which had pulled down the rankings in the last few years. Greenbee Parking has stepped in to fill this yawning gap between the demand and availability of parking space and effectively sealed further discontent. Innovative new parking options at cheap Birmingham airport parking rates has completely changed the parking scenario at Birmingham leading to greater customer satisfaction and increased popularity for both the airport and brand Greenbee.
The Greenbee Airport Parking Solution
Greenbeeparking.com is the connection between consumers and parking vacancies in close proximity to major airports and seaports. The parking spaces are very affordable because the company has negotiated discounted rates with major hotel chains for the parking spaces that are not currently occupied. Here's how it works.
Greenbee Parking puts the available inventory of parking spaces on their website to be reserved by business and leisure travelers looking for cheap airport parking. This alternative method for finding parking equates to significant savings for the traveler.
About Greenbee Parking
Greenbee Parking is the nation's most innovative long term parking company, with a new way of making long term parking affordable. The company is rapidly adding new airports to its network. Check us out today!