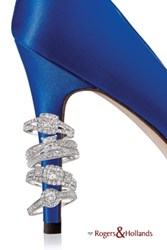 "The new design focuses on what we think the guest wants to experience, and the type of resources today's bridal buyer expects," said Dominick Sorresso, VP of Merchandising for Rogers & Hollands.
Muskegon, MI (PRWEB) August 09, 2013
Rogers & Hollands Jewelers today announced the date of the grand opening of their new location at The Lakes Mall in Muskegon, Michigan. The new location, which opens on August 29th, will be home to a number of new, tech-savvy aspects that are not typically found in traditional jewelry stores.
The new store will feature a fresh color scheme that accents the new Rogers & Hollands brand logo, and feature storytelling product displays, as well as an exclusive boutique within the store to showcase Canadian Ice Diamond Collection designs. Guests will have access to a state of the art waiting area, complete with refreshments as well as tablet computers for anyone who wants to surf the net.
The "Digital Bar" comes equipped with tablets and an interactive screen to work with guests. The tablets on the counters are available for guests to engage in a customized shopping experience where they can design their own engagement ring, choosing from hundreds of stones and settings. The counter also includes two 55" monitors to showcase each guest's customized design.
"When we first started on this new design store project, we asked ourselves, if our emphasis is bridal, then what is relevant to today's bridal buyer?" said Kathy Kadet, VP of Marketing of Rogers & Hollands. "Our answer was simple; an updated design, with an unbelievable bridal assortment, and an overall innovative approach familiar to this new tech savvy consumer."
An exclusive "Bridal Bar" is the perfect way for guests to work with Rogers & Hollands associates on ring fittings, viewing stones, and a host of other options available to guests. As with the Digital Bar, the shopping experience at the Bridal Bar is entirely customizable, so that any guest can find what they need to make their wedding ceremony extra special.
Store associates will be fully equipped with the knowledge and understanding of all social media platforms. Facebook, Pinterest, Twitter and Instagram will all be covered in an extensive training program to educate new associates on how these mediums work, and why they are important to the new consumer.
"It is not uncommon for our guests to come into our store with a photo of a ring they pulled from Pinterest. We know our guests are doing their research online through many different social media platforms and we want to be able to understand and adhere to their wants," said Kadet.
The layout of the store itself is much more open than traditional jewelry boutiques. The curved entrance is very much different from the traditional linier layout that can be found hundreds of cookie-cutter malls across the country. The new, elegant design complete with wood flooring is designed to give guests a warm, welcoming place to find what for many will be one of their most treasured family heirlooms.
"The new design focuses on what we think the guest wants to experience, and the type of resources today's bridal buyer expects," said Dominick Sorresso, VP of Merchandise of Rogers & Hollands.
Rogers & Hollands Jewelers:
For over 100 years, the foundation of Rogers & Hollands has always been, and will always begin with family. From founder, Bernard R. Friedman, to now matriarch & jewelry designer, Juell Kadet, the theme of exclusivity combined with handcrafted quality have become the ingredients of our long history of sustainability & success. Visit our official Facebook Fan Page: http://www.facebook.com/4nowand4ever.