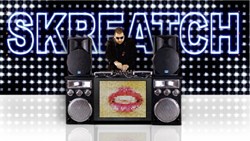 Teaneck, NJ (PRWEB) August 13, 2013
DJ Skreatch is back with and epic mash-up and remix package. "Promised Milkshake 2013" is a clever mash-up between the 80's classic house track "Promised Land" and the classic urban hit "Milkshake." Included in the 2013 remixes are electro house and house mixes by Skreatch, Mark Wagner and Voskhod 1.
Skreatch (real name Luc Rigaux) was the founding member of the famous DJ/Producer team The Unity Mixers. From pure underground music to very commercial, Skreatch has produced a multitude of hits, including the cult, techno track "O Fortuna" by Apotheosis. He has also produced remixes for many famous artists, usually reaching the top of the charts in countries around the world. Luc was a guest DJ on the famous UK "Battle Of The DJs" album side by side with Carl Cox.
Even after The Unity Mixers project disbanded, Skreatch continued to produce many other projects (Royal Gigolos, Ritmo Bros, Friskoo), having his latest tracks released by the best dance labels around the world.
The "Promised Milkshake 2013" Remixes will be released on August 20th in the US and Canada via Radikal Records, available for purchase through major online digital retailers such as iTunes, Beatport and Amazon and available through major streaming services including Spotify and Rhapsody.
The remix package can be picked up directly from Radikal right now on their website, http://radikal.com, where it can also be previewed and streamed for free.
Track Listing
01. Promised Milkshake 2013 (Skreatch's Nervous Edit)
02. Promised Milkshake 2013 (Skreatch's Nervous Mix)
03. Promised Milkshake 2013 (MW Remix Radio Cut)
04. Promised Milkshake 2013 (MW Remix Extended)
05. Promised Milkshake 2013 (Voskhod 1 Mix)
About Radikal Records: Radikal Records offers artists national distribution through SONY/Red Distribution, electronic distribution through iTunes, eMusic, Amazon and all major downloading services, and other resources including production, artist development, product marketing and licensing opportunities. In recent years, Radikal has worked with many artists including: 2 Unlimited, N-Trance, Zombie Nation, ATB, Yello, Scooter, Schiller, Blank & Jones, Cosmic Gate, Sinead O'Connor, Voodoo & Serano, Apollo 440 and others. Visit http://radikal.com for more information.