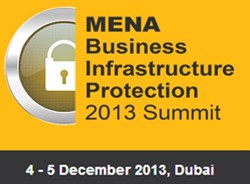 It's an IRN Summit!
Dubai (PRWEB UK) 12 August 2013
IRN, global summits organiser, is pleased to announce the launch of the latest addition to their cutting edge security portfolio, the MENA Business Infrastructure Protection 2013 Summit (Risk Management and Security Intelligence for companies in the Middle East and North Africa) which will take place in Dubai on the 4th-5th of December this year.
This is the first event of its kind to look at critical infrastructure protection from the perspective of businesses and comes at a time when the region is on high security alert. The international news this week was dominated by reports that all US and some British embassies in the MENA region have been closed due to security threats, and further reports are surfacing on foiled Al Qaeda attacks on ports and pipelines in Yemen.
The Summit will specifically address critical infrastructure protection that affects businesses and companies operating (or considering launching business) in the MENA region. It will incorporate airport, port and border security, the critical infrastructure of the oil and gas, pharmaceutical and financial institutions, international hotel chains, international construction companies and telecommunications networks as well as other critical infrastructure directly affecting international companies in the region.
Some of the key speakers currently confirmed on our speaking faculty include:

David Blackhouse, Head of Security Port (Mesaieed), Qatar Petroleum
Cengiz Mogul, Project Security Manager, Muscat International Airport Project
Wallace Koenning, Business Continuity & Disaster Recovery, Saudi Aramco
Harry Harper, Ports Security Officer, Abu Dhabi Ports Company
Cyber and physical security are the top concern for all international businesses in this hugely attractive business destination and the MENA Business Infrastructure Protection Summit aims to give an entirely comprehensive understanding of how best to protect critical infrastructure, team and assets of companies operating in this high risk/high gain region.
For more information about the summit and any inquiries please contact IRN +44 (0) 207 111 1615, at info(at)irn-international(dot)com.