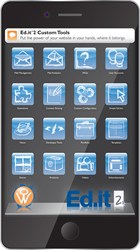 This solution puts the power of website and social media content into the hands of non-programmers who must manage proactive marketing communications programs.
Marietta, Ohio USA (PRWEB) August 08, 2013
Offenberger & White, Inc., (OffWhite) has published a video presentation to announce a major expansion to the company's Ed.it™2 digital marketing platform. The cloud-based solution includes an integrated dashboard to manage communication functions without programming skills. The Ed.it™2 platform now includes a range of web-enabled marketing and PR utilities arrayed in an iconographic index with security features to ensure multiple-user access from any browser or mobile device.
According to OffWhite CEO Bill White, "This solution puts the power of website and social media content into the hands of non-programmers who want to manage proactive marketing communications programs in a changing landscape."
Key functional capabilities include:

Website content management and optimization
Email marketing and list management, importing, exporting, open, path and viewer details
Social media integration with Facebook, LinkedIn, Twitter and other platforms
Simplified content optimization
SEO and analytics with finite traffic analysis keyed to events, sales and other activity
Seamless interface with back-end enterprise systems such as Salesforce.com
Integral form-based market research, registration and other interactive utilities
Multiple user access with flexible privilege hierarchy
Customized functions such as ad banners and metrics, databases, libraries and visitor interactivity.
Developed by OffWhite and continuously upgraded since 2001, the new Ed.it™2 Digital Marketing Platform is easier to use and more flexible than many high-end tools marketed as enterprise solutions, which require significant programming expertise. Ed.it™2 is scalable from small to large business and expandable in response to company needs and growth demands.
While Ed.it™2 requires no programming or HTML experience to manage, a Developer Tools section is available for use by companies with resident IT professionals charged with supporting intranet and extranet applications in high-security environments.
To arrange for a webinar or personal presentation, contact Bill White or Jane Cirigliano at 800-606-1610 or 740-373-9010.
Offenberger & White, Inc., is an integrated marketing solutions company established in 1985, serving clients worldwide in industries ranging from technology and life science to education, healthcare and non-profit institutions.