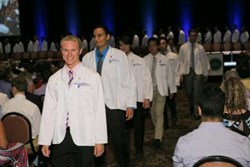 "The scholarships I received, either directly from MHS or with the assistance of its staff, gave me a head start in life," said Larry Klomps.
Hershey, PA (PRWEB) August 08, 2013
Challenge is nothing new to 2008 Milton Hershey School® graduate Larry Klomps. With the help of the School, he overcame a volatile family life to get to where he is today. Recently, he started his education at the Penn State Milton S. Hershey College of Medicine.
"Milton Hershey School has given me the opportunity to pursue my goals in life," said Klomps, who enrolled in MHS during his 10th-grade year. "The School and staff are very encouraging, and they help to give you that push to do big things."
Klomps graduated from Penn State University with distinction in 2013 with a degree in biology. He credits the support of the MHS community, both emotionally and financially, with preparing him for the future.
"The scholarships I received, either directly from MHS or with the assistance of its staff, gave me a head start in life," said Klomps. "I graduated from PSU with much less debt than most students, which makes medical school possible."
Klomps will have to persevere through four years of medical school and a six-year residency to become a reconstructive surgeon. He is inspired by the prospect of working with children to change their lives in a positive way. His goal is to give a new life to children who suffer from cleft palates and other disfigurements.
Through his attendance at MHS, Klomps made the acquaintance of his mentor, a now-retired reconstructive surgeon. Klomps met him during a community event at the School. He was able to shadow surgeons in the field through this connection. He also recognizes MHS Biology Teacher Dennis Moore and Medical Terminology Teacher Michelle Eckert as inspirational in guiding him on his journey.
Though Klomps is heavily leaning toward reconstructive surgery, he is also considering programs in orthopedic and cardiac surgery. No matter which career path he chooses, Klomps says he will apply the values he learned at Milton Hershey School in his profession because he believes it will make him a better physician to his future patients.
Klomps encourages any parent considering the complex decision of enrolling a child in MHS to, "understand it is a sacrifice for both the student and the parent, but in the end, the whole family will triumph as a result of the student's success."
# # #
About Milton Hershey School
Milton Hershey School is a cost-free, private, coeducational home and school for children from families of low income, limited resources, and social need. The School is funded by a trust established by Milton S. Hershey and his wife Catherine. Milton Hershey School offers a positive, structured home life year-round and an excellent pre-kindergarten through 12th-grade education. Our vision focuses on building character and providing children with the skills necessary to be successful in all aspects of life. Go to http://www.mhskids.org to learn more.