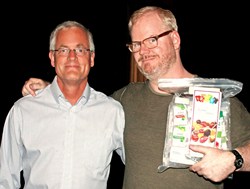 "I was surprised that he mentioned me and the lollipops in his book. Jim is a very funny guy whose relatable stories make you laugh. It's refreshing to know that 'clean' comedians still exist!" stated Bruinsma.
Grand Rapids, MI (PRWEB) August 13, 2013
The book details the challenges of parenting according to Gaffigan's perspective. It is filled with hilarious insights Gaffigan is famous for in his stand-up comedy routines. Dr. John is honored that Jim recommends Dr. John's lollipops and appreciates the importance of giving his children healthier treats.
In addition to Gaffigan's 'Mama Celeste' reference, the comedian refers to the popular lollipops manufactured by Dr. John's Candies®, as 'flavored muzzles' noting his children's affinity for the sugar-free treats. Gaffigan goes on to write "Dr. John makes sugar-free lollipops. (No, he did not pay me to write that. He does not even know who I am. I don't even know if Dr. John is a real doctor or if he even exists.)" and added, "Dr. John, I think you should send me a case of sugar free lollipops as a reward for mentioning you."
Gaffigan found out recently that Dr. John is, in fact, a real doctor when the two met backstage after the comedian's show at Meadowbrook in Rochester Hills, MI. Dr. John brought along family members and staff and enjoyed an evening of laughs that included a new twist on Gaffigan's infamous Hot Pocket routine. Gaffigan's staff generously provided complimentary tickets to the show. Following his performance, the group was invited back to meet the comedian. Bruinsma came prepared with a large bag filled with Dr. John's Candies® which Gaffigan noted immediately.
"How'd you like the plug? Is that my free candy?" Gaffigan quipped after being introduced to Dr. John. After several rounds of photos, Gaffigan autographed his best-selling book and DVD for Dr. John. Bruinsma's family and staff noted Gaffigan was a 'very kind, down to Earth' guy.
Bruinsma is married to his wife Debra, a dental hygienist. Together they started Dr. John's Candies® after they failed to find a high quality, sugar-free candy to recommend to their patients, family, and friends.
The sugar-free candies are manufactured in Michigan and distributed through their company website, http://www.drjohns.com for direct orders. The treats are also available through Amazon.com, specialty stores, and health food stores. In 2008, Dr. John's Candies® was highlighted on a segment for ABC's Good Morning America. The popular morning show featured Dr. John's Herbal lollipops which were heralded as 'the lollipop that licks decay'. Recently, Dr. John's Simply Xylitol® products were launched which use the revolutionary natural sweetener Xylitol, made from Birch trees. Dr. John's Simply Xylitol treats are specially formulated with natural colors and flavors, gluten-free, and are distributed worldwide.
Bruinsma explained, "Sugar-free products have evolved into a great choice for people looking to remove sugar from their diets, but they have to taste like the real thing! We know if the end product does not have great taste, we do not have good patient compliance."
Dr. John's Candies® offers a large variety of sugar-free products including chocolates, lollipops, hard candy discs, caramels, taffy, mints, gum, and drink mixes. People looking for substitutes can easily swap their sweets for healthier treats. Diabetics also love the wide selection of choices since they are sometimes limited when looking for good alternatives in their diet.