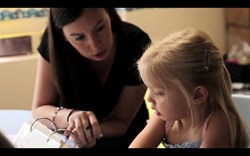 At Bright Kids, we personally tailor our programs to match your child's needs to guarantee success in the daunting field of test prep for Pre-K and beyond.
Manhattan, NY (PRWEB) August 09, 2013
Bright Kids NYC, one of New York City's most successful test prep centers, is pleased to announce the opening of its new office at 177 87th St (near Lexington Ave). This center has been in the works for a few months now, and Bright Kids is thrilled to open this branch and in turn offer convenience for current and future customers in the Upper East Side area.
Bright Kids is a celebrated, high-yield test prep center with locations in New York City and Chicago. Through unique and proven test prep methods, Bright Kids has remained one of the most successful test prep centers in New York and Chicago for the last few years. For instance, 94% Bright Kids tutoring clients scored at or above the 90th percentile, earning them a spot in the prestigious Gifted & Talented program. At Bright Kids, tailored programs match student's needs to guarantee success in the daunting field of test prep for Pre-K and beyond. All programs begin with a detailed assessment to evaluate a child's strengths and a creation of a custom curriculum. This ensures that students get the best possible advantage when tackling any of the wide array of tests. Also, a variety of take-home testing products allow students to learn and prepare in and out of the classroom.
One of the most in-demand and high-reward programs is the Gifted and Talented (G&T) Bootcamp. The application for New York City's Gifted and Talented program is notably challenging – comprising of the OLSAT® and the NNAT®2. However, Bright Kids NYC has a solution to this daunting issue through our time-tested G&T Bootcamp. In this program, students will gain a strong base for test prep and will be able to properly hone their test-taking skills to ensure success. Not only does this Bootcamp prepare students for the rigors of the G&T exams, it also provides a jump-off point to become more familiar with test-taking skills for the rest of their academic careers. The lessons children will learn as a G&T Bootcamp student will not only serve them through the tests - in fact, Bright Kids will provide test prep skills that are applicable through your child's SAT Prep period and beyond.
Bright Kids, has a wide array of bootcamps and other programs to ensure success on a wide array of tests spanning several grade levels. Two particularly popular Bootcamps include the Stanford-Binet Bootcamp and the ERB Bootcamp, which covers three of the ERB's main tests, including WPPSI-III, WPPSI-IV, and WISC-IV. Bright Kids also offers a wide variety of other classes besides the Bootcamp series. In addition to these Bootcamps, Bright Kids offers a wide array of test prep products on their online store for students taking the ISEE, the SSAT, and the CogAT, among others.
If you have any questions or would like to learn more about the products and services that Bright Kids offers both in NYC and Chicago, please feel free to send an email to info(at)brightkidsnyc(dot)com or please call 917-539-4575.