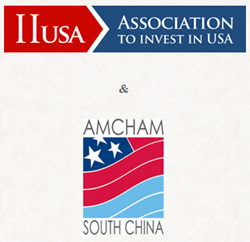 An industry gathering in the largest EB-5 investor marketplace in the world is something all stakeholders in the EB-5 community won't want to miss!
Chicago, IL (PRWEB) August 09, 2013
The Association to Invest In the USA (IIUSA), the national not-for-profit trade association for the EB-5 Regional Center Program (the "Program") industry (whose Regional Center members make up approximately 95% of the capital raised through the Program), is partnering with the American Chamber of Commerce in South China (AmCham South China) to lead the U.S. delegation to the 17th Annual China International Fair for Investment & Trade (CIFIT) in Xiamen, China this September 6-10, 2013. The delegation will be co-lead by the Presidents of both organizations: K. David Andersson, IIUSA, and Harley Seyedin, AmCham South China.
The IIUSA and AmCham South China will co-host the U.S. Exhibit Pavilion, collaborate on media events, and bring together international partners from across sectors to strengthen the economic bonds of friendship between China and the U.S. - including through the EB-5 Regional Center Program. IIUSA recently highlighted the following "Top 3" reasons to join the U.S. delegation to CIFIT:
(1) IIUSA has been hard at work in China throughout 2013 establishing relationships with strategic partners (exit/entry associations, AmCham S. China, US Commercial Service, etc.), giving presentations on the EB-5, and recruiting new migration agency members. CIFIT is the culmination of these efforts, as IIUSA brings all of these new partners together in one place in the Program's predominant investor marketplace.
(2) As usual, there is no shortage of industry development - both encouraging and challenging - that need to be discussed in an open forum with our international counterparts. IIUSA's 9/9 EB-5 seminar will provide that exact opportunity.
(3) There are already 20+ IIUSA members signed up to exhibit at CIFIT...with limited space remaining. Join the U.S. Delegation and make sure you are part of this exciting event!
The delegation leaders will also be bringing together the EB-5 Regional Center industry, from China and the U.S., for the 09/09 EB-5 seminar that will feature expert speakers and honored guests from: IIUSA, AmCham South China, U.S. Commercial Service (invited), Guangdong & Beijing Exit/Entry Service Associations, and more. Topics to be covered include: Importance of Cross-Pacific Partnerships for EB-5 Success - What to Consider When Invest in America: Due Diligence - U.S. Immigration Reform & Its Potential Impact on EB-5 - USCIS EB-5 Policy, Processing & Trends Update - China Exit/Entry Service Industry Perspectives on EB-5 - Case Studies: Learning from Success & Failure as an Industry.
Honorary speakers will include attending government officials from U.S. and China and panels of expert on the latest industry developments in China (by Exit/Entry Associations) and the U.S. (by IIUSA). In attendance will be the entire IIUSA delegation, Chinese migration advisory firms, other exit/entry service associations, U.S. and Chinese government officials, and more! Regional Center Principals, Project Developers, Law Firms, Financial Services Providers, Migration Agencies, and Economists should act quickly to attend.
"Under the leadership of our two organizations, there is reason for all IIUSA members - whether Regional Centers, projects managers, law firms, and any other industry service providers - to consider making this trip. IIUSA is honored to have such an established and dynamic partner is AmCham South China for our education and advocacy efforts in China. CIFIT is the culmination of what has already been a productive year of collaboration in 2013 between the organizations - providing the ideal platform for our respective members to pursue opportunity."
According to AmCham South China's statistics from last year's Fair, CIFIT is where US$298 million in investment is forge every minute, twenty-four hours a day for three consecutive days. The Fair is focused strictly on "investment" as opposed to "commodities." The new President of China, Xi Jingping, began CIFIT almost 20 years ago when he was Vice Mayor of Xiamen. The Fair is attended by at least the Vice Premier in charge of China's economy and each and every standing Vice Governor of every province and standing Vice Mayor of every city in China.
Sponsors of the U.S. delegation are as follows: Clark County Regional Center, CMB Regional Centers, Encore Global Enterprises, and New York City Real Estate Regional Center. The list of confirmed exhibitors continues to grow, as follows: Civitas Capital Group, Jay Peak Vermont, Green Card Fund, NES Financial, USA Continental Regional Center, Southeast Regional Center, CP Regional Center, US Immigration Fund, American Regional Center Group, Atlantic American Opportunities Fund, Texas Regional Fortun Center, Raza Development Fund, Hollywood International Regional Center, Peal Pacific Properties, American Dream Fund, Access the USA, EB5 Global, CrossHarbor Partners, Taipei Commercial Law Firm.
Exhibit booths cost only $4,500 and include attendance for four people among other amenities. Individual participation in the delegation is now available for purchase for IIUSA members for $650 per person. "An industry gathering in the largest EB-5 investor marketplace in the world is something all stakeholders in the EB-5 community won't want to miss!" said Peter D. Joseph, Executive Director, IIUSA, "We at IIUSA are honored to partner with AmCham South China to bring this exciting opportunity to the industry."
Click the following link for more information and details: https://iiusa-cifit2013.eventbrite.com/.