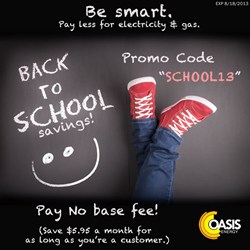 this is an opportunity to show your children it's possible to be both financially and environmentally responsible at the same time. It's a great teachable moment
Baltimore, Maryland (PRWEB) August 08, 2013
Using promo code "SCHOOL13" when signing up online at OasisEnergy.com, will remove the standard base fee. This is a savings of $5.95/month for as long as a customer remains with Oasis Energy. The savings works out to $71.40 annually or $142.80 over length of a 24 month plan.
The coupon works for all traditional and renewable electricity in all of Oasis Energy's active power markets, including utilities in Baltimore, Pittsburgh, Philadelphia, New York City, and Chicago areas. The promotion code also works for all natural gas plans in Oasis Energy's active gas markets in New York and Maryland.
"This promotion is an opportunity for savvy customers to lock in a low fixed rate without a base fee. This protects them from rising energy costs, and they save money in the process," said Justin Snyder, Oasis Energy's National Brand Manager.
The coupon works for green energy plans too.
"Our Back-to-School discount code also works on all of our 100% renewable energy plans. So, this is an opportunity to show your children it's possible to be both financially and environmentally responsible at the same time. It's a great teachable moment," said Snyder.
This coupon code expires 8/18/2013.
Oasis Energy's discount codes are always announced first on their social media accounts:
Oasis Energy Facebook
Oasis Energy Twitter
Oasis Energy Google Plus
Oasis Energy is committed to giving back to the local communities they serve. Participating in community improvement projects, charity efforts, environmental awareness, and energy efficiency campaigns.
About Oasis Energy:
Oasis Energy is a leading supplier of electricity and natural gas to residential and business customers in New York, Pennsylvania, Maryland and Illinois. By offering competitive pricing on fixed and variable rate energy products, Oasis Energy aims to be a low-cost/high-value provider bringing energy cost savings to customers in every market they serve.
For more information on Oasis Energy's electricity and natural gas service visit: https://www.oasisenergy.com.