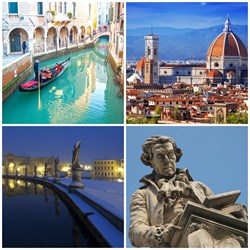 Many travelers report they prefer seeing Italy during this time of year.
Somerville, MA (PRWEB) August 14, 2013
There's still time to hop onboard the trains of Italy with end of summer/early fall discounts. "Many travelers report they prefer seeing Italy during this time of year, when it is less crowded, cooler and rates on airfare and accommodation drop," said Mike Fuller, President and CEO of International Rail LLC, parent company for ItaliaRail. "We are pleased to offer our customers the following late summer/early fall train travel deals."
2 for 1 Saturdays: ­Now through October 26th, if you are traveling by train on a Saturday, buy 1 adult ticket at the base fare and receive a second adult ticket for free. Perfect for couples, friends and families traveling together.
Group Travel: If you have a group of 10­-49 people who are planning to travel together, you can receive up to 20% off the price of each individual ticket. Ideal for school groups, family reunions and friend getaways.
Super Economy and Economy Fares: There are still seats to be had at deeply discounted prices on the high ­speed trains for travel August through November. Rome and Venice are less than four hours apart, starting from $41. Rome to Florence with a Super Economy fare comes to only $27, if you book your September dates early. Plan now for a late October visit and travel between Venice and Milan for as low as $13.
These are only a small sample of the many great fares available for end of Summer and they are in limited supply, so it's best to book as soon as possible.
For more information and to book any of these discounted fares, go to http://www.italiarail.com.
About ItaliaRail: ItaliaRail are the experts on Italy train tickets and passes. In cooperation with Trenitalia, Italy's national railway, ItaliaRail provides a direct connection to Trenitalia's reservation system, allowing rail travelers access to the most routes at the best prices. Travelers are able to book in multiple currencies and knowledgeable customer service agents are available to answer questions and give advice on train travel throughout Italy. ItaliaRail was launched in 2005 and is a division of International Rail, LLC.