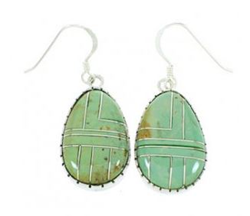 If you love beads and fringe and gemstones, you probably owe your tastes to Native American artisans dating back hundreds of years.
(PRWEB) August 10, 2013
It is almost impossible to escape the influence of Native American earrings on modern jewelry. Many of the modern trends in earrings can be traced back to Native American origins.
"If you love beads and fringe and gemstones, you probably owe your tastes to Native American artisans dating back hundreds of years," says Dana Reardon, who spearheads public relations for the new NativeAmericanEarrings.com. In fact, the influence of Native American artisans is so prevalent within modern jewelry making it can be almost impossible to set it apart from the dominant fashion trends.
While many of the earrings produced today in the vein of Native American art rely on plastic beads or glass beads, authentic artisan jewelry relied on much more organic materials. Popular stones included amber, opal, turquoise, and jet.
In addition, certain tribal pieces were adorned with bones and antlers of animals which sustained the livelihood of the tribes. Native American artisans, however, are happy to borrow from modern influences when selecting materials for their work. It is not uncommon for them to implement items such as Czech seed beads or Swarovski crystals into some of their more edgy pieces.
Today, Native American earrings supply the people who make them with a sense of identity. Prior to the colonization of the Americas, the tribes were without a written language and they relied on visual artistry and images in order to communicate. "Has anyone ever heard of a piece of art being referred to as a conversation piece?" asks Reardon. "For Native Americans, earrings were quite literally a conversation piece because just looking at someone else's earrings was enough to form a whole conversation. It was all about the visual communication back then."
While today's Native American artists do use spoken language, many of them still find a deep sense of peace in using earrings as a medium to speak their true mind. "Native American earrings are like anything else you think of when you think of expression, such as dance or song."
"Native American earrings can express the full range of human emotion," according to Reardon. "Strong, girly, spiritual, natural, or glamorous; every aspect of a person's personality has a place."
Reardon and her collaborators are noticing an increase in interest in Native American jewelry, particularly among younger woman who want jewelry pieces that are meaningful and which they can wear for years to come without worrying about the ebb and flow of trends.
For more information, please visit NativeAmericanEarrings.com.