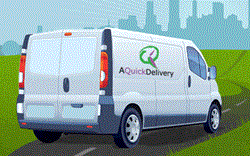 Atlanta, GA (PRWEB) August 09, 2013
QuickDelivery, a recognized leader in same-day delivery, messenger and transportation services, announces no jewelry courier services. The announcement comes in an effort to inform customers of service options, policies, and increase sales growth. AQuickDelivery pursues to be the best choice for same-day delivery solutions throughout Atlanta and the Georgia area.
AQuickDelivery will provide no jewelry courier services due to the value of the items involved. Jewelry can have low to high monetary value, which the courier will only insure up to $8,000. Many jewelry pieces also carries sentimental value that is even more costly than the monetary value itself. If the jewelry is stolen or lost, the sentimental value cannot be replaced.
No jewelry deliveries also deter opportunity for driver theft. AQuickDelivery trusts its' drivers, however, theft can occur if those who engage in this type of activity are aware of what drivers have on board. Jewelry has the same attributes as a cash delivery. More than likely, jewelry is transported in small packages that can be easily lost or mixed up with other driver packages. If the jewelry is lost or delivered to the wrong location, there is opportunity for jewelry to be stolen as well.
The courier strives to meet the various service demands of its one-time customers and account holders. Elimination of jewelry courier services further establishes AQuickDelivery as a professional, trusted source for any same-day delivery needs. The Atlanta courier creates efficient services that result in an optimal and quality customer experience.
AQuickDelivery is a premier same-day courier offering transportation and distribution services. From small packages to palletized freight, AQuickDelivery delivers fast. As a leader in the courier industry, their goal is to perform optimal courier logistic solutions and superior customer service every time. The courier provides same-day delivery successfully for over 1,500 clients, including Fortune 500 companies throughout Atlanta and the Georgia area.