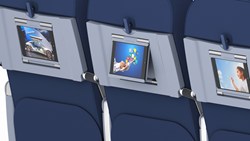 Airline industry recognizes it must respond quickly in order to make it easier for their customers to use these devices inflight," said Nick Pajic, Founder and CEO
Phoenix, Arizona (PRWEB) August 12, 2013
SmartTray International, LLC announced today it will unveil enhanced designs for its already popular SmartTray X1, X2 and X3 tablet device IFE platforms at the upcoming APEX/IFSA 2013 Expo this September 9-12, in Anaheim, California.
"With more and more travelers bringing their portable electronic devices (PEDs) onboard, the airline industry recognizes it must respond quickly in order to make it easier for their customers to use these devices inflight," said Nick Pajic, Founder, President & CEO of SmartTray International. SmartTray platforms make using these devices easy, make the cabin safer for travelers and inflight crew and protect fragile and expensive devices from falling and breaking," added Pajic.
The X1 is a non-electronic tray table that greatly facilitates airline passenger's use of tablets, e-readers and other PEDs. The simple locking groove architecture, no-moving parts, helps protect expensive and fragile PEDs from becoming airborne in turbulence, falling off or breaking inflight adding to enhanced passengers experience.
The X2 features a revolutionary 'tray-in-a-tray' design which allows travelers to place their tablet device inside a tray table. Tablet devices are fully accessible when tray tables are in the upright or down positions. Additionally, the unique 2-pivot hinge design allows for adjusting viewing angle for optimum comfort.
The X3 is for carriers who distribute airline owned tablet devices. Tablets cannot be removed by passengers and are charged on the aircraft in the tray tables. This unique and groundbreaking architecture solves the time consuming and costly logistics of distribution, collection and re-charging of tablet device batteries inside airports between flights.
The content on each tablet IFE device can be customized to play full audio/visual TV network quality advertising – a significant, incremental ancillary revenue stream for airlines.
About SmartTray:
SmartTray International, LLC, is an innovation leader and pioneer of proprietary, simple, low cost, tablet device in-flight entertainment (IFE) platforms that embrace proven, user friendly, cutting edge technologies designed to greatly enhance travelers' experience and make the cabin safer for passengers and inflight crews.
SmartTray products turn decades old food tray designs into modern, cutting edge technology tablet device IFE platforms that can be installed in minutes per passenger seat and at a fraction of the traditional seat embedded IFE systems costs. The complex and costly logistics of getting carrier provided tablet devices on and off aircraft to recharge tablet device batteries between flights inside airports is completely eliminated; tablet device batteries are charged automatically when tray tables are up and in stowed position.
SmartTray is privately owned. For more information, please visit us at http://www.thesmarttray.com.
# # #