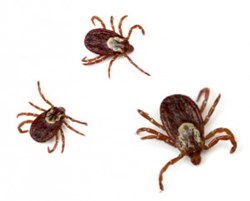 20% of deer ticks carry the bacteria which causes Lyme disease and incidences have doubled over the last fifteen years.
Asheville, NC (PRWEB) August 09, 2013
People hate them. Dogs and cats hate them. Ticks, fleas and mosquitoes! But now that summer is here and bug season is at its peak, the little pests are a fact of life.
That's why the online pet supply company, FetchRx Pet Pharmacy, wants to make summer better for pets by offering some of the best and safest supplies to help eliminate these pests from homes and pets. Because when a dog or cat lives a better life, so can owners.
Lyme disease, a sometimes fatal bacterial infection for humans is carried by deer ticks. Often these tiny, fast-moving critters can latch on to pets as they pass through tall grass. But, the ticks take some time to truly imbed in pet's skin, and if a dog or cat comes back inside, or have contact with people before that, they could just as easily become the pest's host.
Of course, that's a pretty important reason to protect the entire family from ticks. Considering that approximately 20% of all deer ticks carry the bacteria which causes Lyme disease and that incidences of the disease have doubled over the last fifteen years, it becomes clear why protection is important.
But, of course, another important point is to protect man's best friend. Certain diseases, like heartworms which are carried by mosquitoes, are serious threats to dog and cat health! And with heartworm, prevention is the key. If a pet gets a heartworm infection, treatment is difficult.
There are certain preventative measures to take to protect pets against these diseases. First, monitor the home environment and make sure there is no standing water-the breeding ground for mosquitoes. Moving water is fine, but stagnant water is an invitation to mosquitoes. Also, be sure to keep the grass short. Ticks climb long strands of grass and then wait to latch on to whatever warm-blooded creature passes by—either pets or humans. And finally, use preventative pet medications—like those offered by FetchRx Pet Pharmacy, to help protect the home. They sell the exact same top-rated flea, tick and mosquito preventative meds as veterinarians, but at a fraction of the cost.
So when looking for affordable, dependable products, proven to protect pets and family from dangerous disease, consider FetchRx Pet Pharmacy, an online source for the highest rated products on the market like Bayer K9 Advantix, Merial Frontline and Revolution for ticks and fleas as well as Heartguard to prevent mosquito-bourne heart worms. Of course, FetchRx offers a full line of worming medicines as well to protect against intestinal parasites. Visit http://www.FetchRx.com or call 888-732-3979 to learn more.