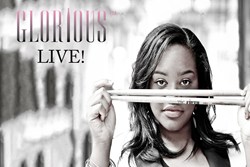 My live drum set remixes are my version of improv for electronic dance music.
New York, NY (PRWEB) August 09, 2013
Glorious, a livetronica drummer and Pop/R&B singer launches a Kickstarter crowd-funding campaign for the music video recording of her new show Glorious Live. Glorious creates live drum set remixes to electronic dance music (EDM) alongside a DJ and sings. This music video will be used to showcase her high-energy performance and spotlight a new type of live act for EDM nightclubs across the country. This 30-day Kickstarter campaign launches Thursday, August 8, 2013.
In Glorious' Live Show, nightclub patrons will experience the DJ playing the best in house, progressive house, trance, and electro music while Glorious riffs on the drums, creating totally new remixes of the tracks played. Glorious will sing powerhouse covers of house music favorites and dance remixes of pop music. Each show is different. Some sets will be exclusive to a specific type of dance music genre or the music format of that night, while others sets may be more diverse.
"I love EDM and I love playing the drums and singing. When I discovered livetronica, a unique style that blends jam band elements with electronic music, I got hooked. Livetronica is a melting pot of sounds and styles from many different genres. You take the high-octane, beat pumping sounds of electronic dance music and combine it with live instruments backed by improvisational chops, generating entirely new melodies and harmonies. I use to be a jazz drummer growing up, so improv is my deal. My live drum set remixes are my version of improv for electronic dance music," says Glorious.
"I am a fan of so many dance music styles, DJs, and producers. Whether the headliner is Avicii, Tiësto, Calvin Harris, David Guetta, Diplo, or Kaskade, they are all different. Their sets are distinct, and legendary in their own way. I'm an Electronic Music Production and Design major at Berklee College of Music, and I'm producing remixes of some of my favorite artists that I would love to collaborate with in the future."
Glorious' goal for the Live Show and Music Video Kickstarter campaign is $5000 which will fund the costs associated with securing a venue, renting equipment, promotion, hiring a videographer, and editing the final video. There are various levels of pledges with attached backer awards to choose from, starting with $5 to get the project started to $5000 where you could get an executive producer credit, concert tickets, a meet-and-greet, or your own Glorious live show in your city. Kickstarter campaigns operate under an "all-or-nothing" funding model. If the total $5000 goal is not met by the deadline, no funds are collected from donors or awarded for the project.
To learn more, show support, and help fund the Glorious Live Show and Music Video visit http://kck.st/13mJ8mv. Join the journey at @GloriousLive and http://www.facebook.com/gloriouslive.
About Glorious
Glorious is a livetronica drummer, Pop/R&B singer, and Hip-Hop/Pop/R&B producer who has been making music since she started playing the drums at the age of 3. A rare talent, Glorious pulls from her jazz background and other various styles of music to create her own sound that gets audiences moving, engaged, and inspired. She is glamorous yet edgy, and classy yet full of grit. Glorious is originally from Washington, DC. She is named after her grandmother Glorious Cooper, and is a rising junior at Berklee College of Music where she majors in Electronic Music Production and Design.
###