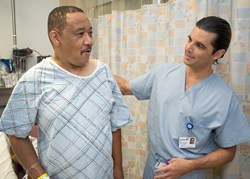 SYOSSET, NY (PRWEB) August 08, 2013
The North Shore-LIJ Health System announced today that the first magnetic resonance imaging-compatible spinal cord stimulator (SCS) in New York State was implanted Tuesday in a patient at Syosset Hospital.
Physicians at Southside Hospital were also among the first on Long Island to implant one of these devices, with a procedure that happened on Wednesday.
Patients with chronic pain in addition to health concerns such as multiple sclerosis who had previous versions of the device implanted would have had to have the device surgically removed before undergoing an MRI because of concerns that the MRI's magnetic fields would interfere with the stimulator.
SCS was first created by Medtronic in the 1980s and since then about 250,000 people across the globe have benefitted from the device.
The stimulator is a device that is implanted under a patient's skin and sends out mild electrical impulses to a person's spinal cord. The impulses keep back and limb-related pain signals from reaching the patient's brain. In lieu of pain, a patient will feel a tingling sensation. This kind of treatment is helpful for people with chronic pain, which lasts for more than three months and is so severe it can be disabling, such as limiting a person's activities and work schedule.
Approximately 116 million American adults experience chronic pain, which is more than the number of people who are impacted by diabetes, cancer and heart disease combined, according to Medtronic.
Dr. John Stamatos, director of interventional pain management at Syosset Hospital, performed the first procedure in New York State with the stimulator on Tuesday morning.
"Not only is this device giving patients significant relief from their chronic pain, but it's also allowing people who need an MRI to do so without another surgery needing to be performed," Dr. Stamatos said.
Dr. Luis Fandos, chief of pain management at Southside Hospital, said, "Until now, removal of spinal cord stimulation devices to ensure a safe body MRI scan was unavoidable. With SureScan technology, patients who are receiving neurostimulation therapy to manage their chronic pain now have access to the full benefits of MRI scans without compromising their healthcare, and their physicians have the best opportunity to identify potentially life-threatening medical conditions."
The spinal cord stimulator is one of a handful of options to treat chronic pain. Other treatments include rehabilitation, medications and corrective surgery.
For more information about chronic pain management, call (516) 496-6447 to learn about treatment options at Syosset Hospital. Or for Southside Hospital call (631) 422-6166.