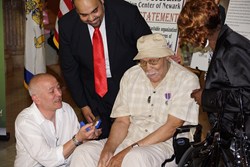 Today serves as a message to the men and women who serve today: that despite how you may feel right now, people around the world appreciate your service and sacrifice, and view you as heroes.--Jack Fanous
Newark, NJ (PRWEB) August 08, 2013
This past May, the story of Willie Wilkins, the Newark resident and WWII veteran who had his long lost dog tags returned to him after 69 years, made international headlines. Now, the man who worked for over 10 years to find Mr. Wilkins finally had the opportunity to meet him in Newark and deliver medals and tokens of appreciation from the French town he saved during the war.
Philippe Clerbout, whose love for the U.S. Military for bringing his own father back home to France after he spent five years in a Nazi POW camp led him to search for Mr. Wilkins, met him at Newark City Hall the GI Go Fund's One Stop Veterans Office, the same office that connected Mr. Clerbout to Mr. Wilkins in May. Mr. Clerbout presented Mr. Wilkins with the Auchy-les-Mines Town Medal in the city's Rotunda thanking him for what he and the U.S. Military had done for all of the citizens of France.
"I was so honored to finally meet him," said Clerbout. "My father was always grateful to the U.S. Military all his life, and his love became mine. When I found these dog tags so long ago, I just wanted to know who the owner of them was. But thanks to the GI Go Fund and the people at the VA, we were able to find Mr. Wilkins alive. And now to be here and meet him myself after all this time, it just touches my heart."
Willie Wilkins, a South Ward resident, served in a U.S. Army Quartermaster Graves Registration unit in the invasion of Southern France in August 1944. During the campaign, he lost his dogtags, in the French town of Istres. Twelve years ago, a resident of Istres, Anne-Marie Crespo, was digging in her garden when she found Mr. Wilkins' dog tag. With the help of friend Philippe Clerbout, Ms. Crespo contacted the U.S. Department of Veterans Affairs in Indianapolis, which in turn connected with the GI Go Fund and found that Mr. Wilkins was alive and still living in Newark. They confirmed with Mr. Wilkins' daughter Carol that Mr. Wilkins had lost his dog tags in France, and arranged for the return of the dog tags. In addition, the GI Go Fund is working with the Veterans' Administration to ensure that Mr. Wilkins is receiving any and all veterans' benefits to which he may be entitled.
Mr. Wilkins received his dog tags during a surprise ceremony at Newark City Hall on May 8th commemorating V-E Day. During the event, Mr. Wilkins was presented his dog tags, along with the New Jersey Distinguished Service Medal, by Newark Mayor Cory Booker, GI Go Fund Executive Director Jack Fanous, and French Consul-General Bertrand Lortholary.
"I am so happy to meet you, Philippe," said Carol Wilkins, Mr. Wilkins daughter who spoke on his behalf. "We were so happy before, but I wanted to have the chance to meet you and thank you in person. You and the men from the GI Go Fund have brought our family so much joy, and you will always be a part of our hearts for the great lengths you went through to give my father his dog tags back."
"Today was an incredible day," said Jack Fanous. "Not only did Willie Wilkins receive his tags, and not only did he meet the man who found them, but the dreams of tens of thousands of American soldiers who fought during WWII, who slept huddled in their bunkers dreaming of their lives as old men, were realized as one of their own felt the honor of receiving the thanks of all those who benefited from their bravery. This serves as a message to the men and women who serve today: that despite how you may feel right now, people around the world appreciate your service and sacrifice, and view you as heroes."
Mr. Clerbout also presented a Patch to Mr. Wilkins from the Web Detection Association Post 62, the Medal Detector association that helped assist Mr. Clerbout in his initial search, along with a copy of French newspaper that had Mr. Wilkins' story on their front pages.
Moreover, the City of Newark extended its thanks to Mr. Clerbout by presenting him with the Commemorative Plaque from Mayor Booker and City of Newark.
This was the first ever meeting that united the WWII hero with the Frenchman who spent over a decade searching for him, and will be the last chapter in a nearly 70 year journey for a remarkable member of America's Greatest Generation.