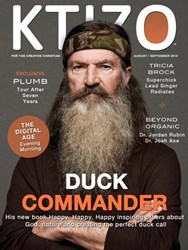 We are excited to have the Duck Commander as a part of this issue. Duck Dynasty has become a national phenomenon and Ktizo is proud to help share their story.
Franklin, TN (PRWEB) August 27, 2013
Ktizo Magazine is a brand new creative Christian Arts magazine, a first of its kind in the space. Published bimonthly for tablet and mobile devices, the magazine topics explore the creative potential in each of us by shining a light through the perspective of artists and provides a space to interact, learn, grow, and exchange ideas with like-minded artists.
"Ktizo Magazine is a refreshing niche in Christian Media. We are excited to be able to bring a new perspective to the creative process that can inspire and encourage our peers and communities. Beautiful design and interactive elements mixed with social media in an environment specifically made for the mobile and tablet devices is an innovative take on other current offerings says," Sandi Kirkland, Ktizo Magazine Co-Founder , commented. "We are serving both the industry's artistic voices and our fast growing audience to cater to the shift in the artistic movement that is occurring in many christian communities across the United States."
The third issue of Ktizo is a game changer featuring The Duck Commander Phil Robertson, author of Happy Happy Happy: My LIfe and Legacy as the Duck Commander from Duck Dynasty on A&E going into the fourth season. Also featured is Plumb who is releasing her new album Need You Now (How Many Times?) inspired by panic attacks she had as a teenager. Plumb is also embarking on her first tour in seven years in the fall of 2013.
The Digital Age, formerly the David Crowder Band, is also featured who discusses the release of their debut album Evening:Morning as the Digital Age and the journey that has gone into creating the conceptual album. "While The Digital Age feels like a brand new chapter for us, it's really a continuation of what the David Crowder Band was all about. The mission remains the same," says guitarist and vocalist Mark Waldrop. "The Digital Age exists to make music that bridges the gap between our mainstream culture and our Christian faith."
Also featured is Tricia, former vocalist for Superchick, on the release of her debut solo album titled Radiate. The long-awaited project follows her recent three-song EP Enough which gave fans a preview into Tricia's new music. Radiate includes the singer's lead single "Enough," which journeys through the reminder that God's love is always enough. With high energy elements and pop ballads, the 12-track release stands as a bold statement to Tricia's natural progression into her career as a solo artist.
ABOUT KTIZO MAGAZINE
Atlanta based Ktizo Magazine can be downloaded through the Apple iTunes Store and in the future will be available for Android devices. Ktizo Magazine is for the Creative Christian. 'Ktizo' means to form, create, to change and transform. Ktizo Magazine is an interactive faith-based magazine that displays dynamic content from recording artists, directors, authors & social leaders.