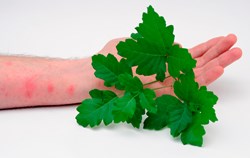 My granddaughter and I have used cortisones to treat the itch of eczema for many years. The itch kept getting worse and I learned about the fact that cortisones cause Topical Steriod Addiction.
Boulder, CO (PRWEB) August 28, 2013
Is an 86-year-old guy starting a new business sane, foolish, wise, or is that just his nature to pursue ideas and engage his entrepreneurial skills all over again?
The New York Times reports that, "For millions of people who suffer from chronic eczema, life can become a hellish existence…"
Chemical engineer, Ray Hauser, says he developed an interest in skin care when he began experiencing seasonal eczema on his legs many autumns. He says, "Remembering from my 39 years of laboratory experience that a calcium salt was surprisingly soluble in alcohol, I made up a solution and applied it to my legs. The irritation disappeared almost immediately and remained so for about 24 hours. I developed my own formula and the lotion seemed to be more effective than the one prescribed by dermatologist." This lotion prompted Hauser's interest in formulating new products that provide temporary relief of minor skin irritations and rashes caused by acne, eczema, actinic keratosis, insect bites, poison ivy, poison oak, poison sumac, and more.
Co-founder and former Board member of Hauser Chemical Research, Inc., Ray Hauser, announces the formation of a new pharmaceutical/cosmetic company, SatisPharma, LLC. As General Manager, Hauser says the company logo and slogan, "Join us on Cloud Nine," represents the company's mission is to provide customer satisfaction in the formulation of effective and economical products.
After extensive product development, "Doc" Hauser has formulated two skin lotions, Soothe-it (tm) and EPSOMA® that provide a novel approach to skin care. "Our skin lotions help to moisturize the skin with emollients and water-absorbers," says Hauser. "We also attempt to minimize skin irritations by interaction with nerve endings below the epidermis using ingredients commonly found in Epsom salts and in calamine lotion."
Users have found them to be of benefit in relieving irritations from a variety of causes, including acne, eczema, insect bites, actinic keratosis, and Topical Steroid Addiction.
"My granddaughter and I have been using cortisones to treat the itch of eczema for many years. The itch kept getting worse, and I learned about the fact that cortisones cause Topical Steroid Addiction. For the last 22 months, I have experienced the hellish pains of withdrawing from steroids. My daughter and granddaughter are also going through the withdrawal process. I have used EPSOMA® and Soothe-It (tm) since early February 2013 and have found both to provide better and safer itch relief than any other treatment, including a variety of natural oils. I have recommended Soothe-It tm to others who are going through this painful process." -- Joey Brown, Grand Rapids, MI
SatisPharma, LLC is offering two thousand free samples, distributed to users for personal trials on many irritations from acne to unknown causes. Samples are available at these web sites, Soothe-it.net and Epsoma.net.
Former rocket scientist, Hauser who was a four-year veteran in the Titan missile program, has spent 39 years in the laboratory business in Boulder, Colorado and served as a director of Hauser Chemical Research, Inc., during the Bristol-Myer Squibb clinical trials of Taxol for the treatment of ovarian cancer. He has worked from a home office/shop/lab for the past 13 years, placing seven patents during this time (23 granted since 1951). Hauser refuses to retire, but "after breakfast, he goes downstairs to play," as remarked by a trophy wife of almost 62 years. He has chemical engineering degrees from Illinois, Yale and Colorado, and is named a Fellow in three prominent science and engineering organizations.
While the skin lotions become established on the market, Hauser is making progress toward unique, fast-acting forms of medication for erectile dysfunction, an effort to further satisfaction and happy marriages. A native of China is co-inventor of this product and marketing is anticipated to start in Asia while competitive patents are still in force in the U.S.
SatisPHARMA, LLC, is presently a family-owned company, but plans will soon be ready for a private placement financing this summer. Recognizing his mortality, Hauser expects to select younger, more energetic personnel to run the company while he continues to explore and invent. For more information, contact info(at)satispharma(dot)net.