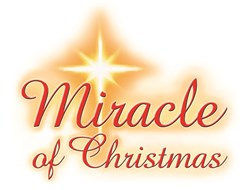 We saw Noah during the summer and were blown away by the sets and the story so we couldn't wait to get back in November to see The Miracle of Christmas. It was the most amazing production I have ever seen!!!! It was almost as if you were there.
Branson, MO (PRWEB) August 08, 2013
Branson Ticket & Travel - Miracle of Christmas: Branson, MO: November 2 – December 28, 2013. Go back in time and witness the greatest birth in history. Be surrounded by the bustling village of Bethlehem as camels, horses, donkeys and villagers pass by. Be transported to the hillside where legions of angels descend upon the shepherds to proclaim, "The Savior is born!" Miracle of Christmas is a family tradition that follows the true Biblical account of one of the greatest moments of all time.
For the final season of Miracle in Christmas, Sight & Sound Theatre and Branson Ticket & Travel are offering a Family Christmas Discount Package to see the show, visit Silver Dollar City and stay in quality lodging at a significant savings.
This offer is two adults and two teens or children for $110; a savings of nearly $40.00.
Branson Ticket & Travel is also offering a Family Christmas Package giving lodging, food and show discounts during the holiday season.
MIRACLE OF CHRISTMAS returns for our Ozark Mountain Christmas celebration for one season only; It is not scheduled to return in 2014.
For more information of this offer or a FREE Showguide & Vacation Planner call 1-800-432-4202.
For further assistance online Click Here.