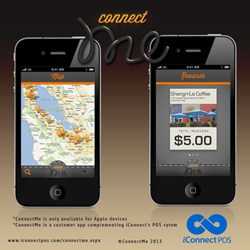 Denver, CO (PRWEB) August 10, 2013
Colorado-based, iConnect POS releases ConnectMe. ConnectMe is an app that allows users to find nearby businesses, pay for products and services, and so much more. ConnectMe works similarly to Yelp where a user can search for nearby shops, and review/rate their experiences. A major differentiator is that ConnectMe is deeply tied to iConnect's POS system. Customers can schedule appointments, receive receipts, view all transactions such as reward programs, gift card balances, and it can even allow you to pay stores by using the app itself. All of these features are possible if the establishment is operating iConnect's POS systems: iPad POS, iPhone POS, or Web POS.
ConnectMe is a major leap for the iConnect POS brand as the app gives the consumer the software to manage their experiences from each business establishment. Furthermore, ConnectMe completes the whole iConnect experience, giving businesses and their consumers a better way of interacting and communicating with each other.
Founder and President of iConnect POS, Subodh Gupta is very excited about the release, as it took them months of testing, and re-evaluation of ConnectMe's design and functionality, and more importantly, the challenge of how it was going to be connected to their point of sale system. This release marks a milestone for the iConnect POS team, as ConnectMe finally completes iConnect's line up of products and services offered all over the globe.
Could this app challenge how other "Yelp" like services are integrated? Possibly. ConnectMe has a lot of potential to innovate and inspire new possibilities.
About:
iConnect POS is InspireSmart's revolutionary point of sale system. Offering businesses across the globe a sophisticated merchant solution software for a practical and an affordable price.
To find out more about iConnect's ConnectMe check their website at http://www.iconnectpos.com/connectme.aspx .