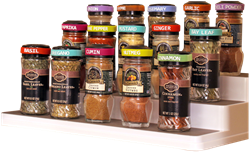 Carrollton, TX (PRWEB) August 09, 2013
Made from 100% FDA approved, colorful silicone, SpiceBands˜ fit snugly onto the cap of your spice bottles "billboarding" each spice's name in large bold font for easy identification revolutionizing spice storage. The silicone band also allows for a functional non-slip grip which is great for those with arthritis or for the aging chef. There are 16 pre-labeled bands for the most common spices in the American kitchen plus 4 blank bands for customization with a dry erase marker. These spice organization staples can be used with a spice rack, an in-drawer spice tray or by themselves in your spice cabinet!
SpiceBands˜ are available in a pack of 20 bands on Amazon.com for $14.99. The product will also be available in select retail stores in November of 2013.
Patent Pending.
About BASE4 Group Inc
BASE4 Group Inc has been selling consumer products since 2003 through various retail channels throughout the United States and Canada. For more information, please contact matt(at)ebase4(dot)com
About SunTx Capital Partners
SunTx Capital Partners, LP, is a Dallas-based private equity firm that invests in middle market manufacturing, distribution and service companies. SunTx specializes in supporting talented management teams in industries where SunTx can apply is operational experience and financial expertise to build leading middle-market companies with operations typically in the Sun Belt region of the United States. SunTx was founded in 2001 and currently has over $600 million of assets under management. The capital committed by SunTx comes from the principals of SunTx as well as from institutional investors, including leading university endowments and corporate and public pension funds. More information about SunTx can be found at http://www.suntx.com. For more information, please contact Daniel Yunger (212-521-4800).