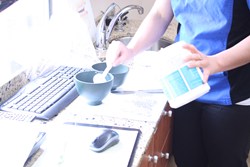 This is a hands-on program and focuses on training dental assistants with actual experience to give them the knowledge and confidence they need to get started with a new career.
Seattle, WA (PRWEB) August 12, 2013
It's called Assist to Succeed. It's a great program that teaches dental assisting faster, and costs thousands less than any program in Seattle. Students, parents and doctors are excited about the quality of the education the students at Assist to Succeed are receiving.
Many people are unable to break in to dental assisting as a career because many available programs are too expensive and take too long. Another obstacle to getting a great job with benefits in the dental field is that few dentists want to hire a person who has no experience. Assist to Succeed dental assisting school offers you a 10 weekend program that runs only on Saturdays. This means not having to quit a current job to get ready for a new career. Of course it doesn't stop there, because this will make it easier to be a dental assistant anywhere in America. Dental assistant pay depends on experience and education and averages between $12/hr for the inexperienced to around $25/hr with benefits for an educated/ experienced dental assistant.
This program is receiving rave reviews from students, parents and grandparents who have helped jump start careers for themselves and others. Dentists who have hired Assist to Succeed graduates are giving glowing reports. See and hear them at http://www.assisttosucceed.com.
Assist to Succeed is so confident of this great experience, they are offering a 100% Money Back Guarantee! If, at any time, during the first two weeks of the course if students are unsatisfied with the education being received, they can receive a money back guarantee with no hassles.
Expect to pay nearly $11,000 for some programs in Seattle and spend nearly 9 months getting a certificate in dental assisting. Assist to Succeed concentrates on modern, real world dental procedures and is taught by assistants and doctors who are highly experienced. "This is a hands-on program and focuses on training dental assistants with actual experience to give the knowledge and confidence needed to get started with a new career," says Dr. Drake.
Tuition for the program is $5495. Easy, no interest financing is also available for $460/month for 12 months O.A.C. Tuition includes all books and materials required for the course. This makes it possible for anyone to afford the fantastic opportunity.
The next semester starts September 7th. Space is limited to maintain level of close personal attention and the classes are filling up fast. An informational open house will be held on August 15th at 3626 NE 45th St. St.#310 Seattle, WA 98105. Get more information and RSVP to reserve a space by calling Assist to Succeed at (206)526-1437.