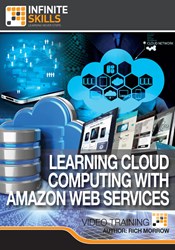 Learn Amazon Web Services At Your Own Speed
(PRWEB) August 12, 2013
Software training firm Infinite Skills Inc. last week introduced its "Learning Cloud Computing With Amazon Web Services Tutorial," a course designed to assist small business owners and entrepreneurs in transitioning locally hosted web services to the cloud using Amazon's Web Service (AWS) solutions.
The transition, currently underway, from local to cloud-based computing is likely the most important development in technology since the internet itself. With increased capacity for data transfer across broadband and mobile interfaces, the capabilities for cloud-based virtualization has reached a tipping-point, as it is now possible to access software applications, platforms, and computing hardware itself and through the internet, creating an entirely new range of possible solutions for business large and small that use computer networking or offer web-based services.
Amazon Web Services Training Video - A Guide To Cloud Computing
Infinite Skills' "Learning Cloud Computing With Amazon Web Services Training Video" offers a quick, incisive explanation of Amazon's web services, by far the most extensive currently available, allowing users to begin transferring hosted services to the cloud in a matter of hours.
Course Author Rich Morrow has been working in open source development for more than 20 years, on every level from hands-on programming to managing large teams and creating solutions for international companies. Founder and "chief geek" at Quicloud, Morrow currently offers consulting and training for cloud and big data solutions, having worked with several Fortune 500 companies including AT&T, Nike, and Amazon.
Morrow has been on the leading edge of the cloud revolution. With direct experience generating cloud-solutions for large and small businesses alike, he is the perfect guide to explain how small-businesses and entrepreneurs can take advantage of these services.
After beginning with an introduction to the cloud, covering the basics of working with infrastructure as a service, Morrow begins explaining how to use Amazon's elastic compute cloud, a pay-as-you-go service that allows users to subscribe to desired services and scale compute capacity based on demand.
Morrow then introduces the essential features of AWS such as elastic load balancers, autoscaling and CloudWatch, Cloud Formation, storage, relational database services, email services, identity and access management, and more, finally building a 3-tier scalable web application on the cloud.
As Morrow explains, a typical small business deploys services using one server to perform all its services. Using infrastructure as a service with AWS allows businesses to optimize these various functions, databases, email servers, virtual services, etc., on a monthly pay-as-you-go basis that allows subscribers to scale their computing capacity based on fluctuations in demand.
"Cloud computing today is what the electric grid was 100 years ago," Morrow says. "We are well on the way to being able to plug into computing resources the same way we plug into an electrical socket in the wall. Amazon Web Services are the most powerful currently available, offering a kiosk model where powerful services such as database storage, virtualization, and so on, are only a couple of mouse clicks away.
Free demo videos and a full list of course contents can be found on the Learning Cloud Computing With Amazon Web Services Tutorial training page of the InfiniteSkills website:
http://www.infiniteskills.com/training/learning-cloud-computing-with-amazon-web-services.html | Learning Cloud Computing with Amazon Web ServicesTraining - DVD
InfiniteSkills offers its Learning Cloud Computing with Amazon Web Services Video Tutorial either as a DVD or a direct download from the company website at a retail price of $49.95. All InfiniteSkills titles and formats are compatible with both Mac and Windows operating systems, and shipping is available around the globe. InfiniteSkills tutorials are supported by project files which correspond to examples in the videos.
About InfiniteSkills Inc.
A leader in the field of software training, InfiniteSkills strives to offer the highest quality training available at an affordable cost. InfiniteSkills tutorials are task-oriented instructional videos, teaching complex skills by providing hands-on examples, guiding users as they carry out critical objectives. InfiniteSkills offers a comprehensive range of software titles available as DVDs, digital downloads, and iPad editions, keeping with company aim of delivering professional training to customers anywhere they want to learn.