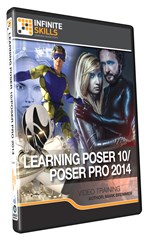 Learn Poser Pro 2014 / Poser 10 At Your Own Speed
(PRWEB) August 13, 2013
Software training firm Infinite Skills Inc. last week introduced its "Learning Poser 10 / Poser Pro 2014 Tutorial," a course designed as an introductory guide that allows new Poser users to begin immediately designing and animating 3D models of human and animal figures while learning best practices and fundamental skills.
Poser is a 3D rendering software package for the design, animation, and rendering of 3D polymesh human and animal figures. Though the program finds a wide range of applications, its relatively simple interface has been especially popular among beginning animators, providing an easy-to-use platform for producing basic models and scenes.
Infinite Skills' "Learning Poser 10 / Poser Pro 2014 Video Training" provides a thorough and efficient guide for new animators, exploring in-depth the essential tools and techniques needed to begin animating with this fun, user-friendly program.
Learning Poser 10 / Poser Pro 2014 Training Video
Course author Mark Bremmer is a professional illustrator and animator with experience in designing animation for corporations and television. Bremmer has been a feature presenter at The National Association of Broadcasters and SIGGRAPH Convention for animators. In addition to his animation and training practice, he is a regular contributor to leading illustration publications.
Bremmer's extensive experience and easy-going teaching style make a fun and informative way to begin creating 3D animations in a matter of hours.
Following an introduction to the Poser interface, including a look at the menu bar and important keyboard shortcuts, Bremmer introduces the new features in Poser 2014, including the new-look comic book renderer and the bullet physics engine that allows users to work with soft-body dynamics in real-time.
From there the course covers all the areas pertaining to modeling 3D figures, starting with a look at the elements of posing figures such as inverse kinematics, direct and numeric manipulation, symmetry, and more. Bremmer then explores working with props, before moving on to morphology, materials, and model detailing in the face, hair, and clothes rooms.
Additional chapters cover lighting and scene building, animating with key frames, designing a character's walk and talk characteristics, concluding with a chapter on rendering with Poser.
"Basically in this course we look at not only the tools and techniques but the whys and strategies of how you work with tool sets," Bremmer explains, "because there is overlap and so its important to know when to use what tool across a variety of situations."
Free demo videos and a full list of course contents can be found on the Learning Cloud Computing With Amazon Web Services Tutorial training page of the InfiniteSkills website:
http://www.infiniteskills.com/training/learning-poser-10-and-poser-pro-2014.html
InfiniteSkills offers its Learning Poser 10 / Poser Pro 2014 Video Tutorial either as a DVD or a direct download from the company website at a retail price of $99.95. All InfiniteSkills titles and formats are compatible with both Mac and Windows operating systems, and shipping is available around the globe. InfiniteSkills tutorials are supported by project files which correspond to examples in the videos.
About InfiniteSkills Inc.
A leader in the field of software training, InfiniteSkills strives to offer the highest quality training available at an affordable cost. InfiniteSkills tutorials are task-oriented instructional videos, teaching complex skills by providing hands-on examples, guiding users as they carry out critical objectives. InfiniteSkills offers a comprehensive range of software titles available as DVDs, digital downloads, and iPad editions, keeping with company aim of delivering professional training to customers anywhere they want to learn.