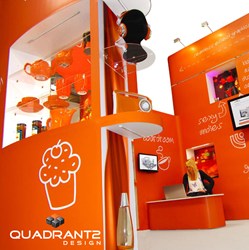 The largest exhibition stand showroom in the UK
Poole, Dorset (PRWEB UK) 12 August 2013
Quadrant2Design has announced the opening of the UK's largest exhibition stand showroom in Poole, Dorset. Complementing this new showroom is the country's largest exhibition pre-build facility.
The 4,000 square foot showroom features seven fully built 'Prestige Events System' exhibition stands.
To see a short video introduction by Design Director Chloe Anderton, please click here.
Quadrant2Design are now welcoming clients and potential customers from across the UK to experience how various configurations of the Prestige Events System can help to tell their brand story.
The Prestige Events System, exclusive to Quadrant2Design in the UK, is unique in being a fully flexible and modular exhibition system, capable of being reconfigured into multiple stand configurations to suit any given event or space requirements.
Cool and minimalist in design, the Prestige System is easy to assemble and break down. Prestige is supported by Quadrant2Design with free CAD exhibition design, graphic design, graphics production, stand manufacture and worldwide installations.
This flexibility, combined with Quadrant2Design's graphic design-lead approach, makes Prestige a powerful tool in a brands integrated communications and events strategy.
In addition to providing flexibility, Prestige enables clients to tell their brand story clearly and consistently. The use of both vertical and horizontal magnetic bars enables graphics to flow seamlessly across the stand, optimising both the space available for brand imagery and messaging, as well as avoiding the aesthetic pitfalls of metal structure disrupting graphics (as seen on other modular solutions). In other words, Prestige enables a brand's message to be told more clearly and in more ways than any other competing system.
To demonstrate these features the new showroom has seven fully built conceptualisations of how clients can use Prestige exhibition stands to deliver design and branding lead, flexible, event marketing.
Visitors will see howt stand sizes can be easily altered to suit different events, as well as how the minimalist frame structure works to deliver this.
They will also see seven different event branding case studies of how different brands, with different communications objectives, can integrate the Prestige System into their branding and events strategy.
Alan Jenkins, Managing Director at Quadrant2Design said: "The Prestige Events System enables our customers to tell their brand story to the people they most care about when at events – their visitors. We provide a flexible, cost-efficient, design and branding lead approach. I have been very pleased to welcome visitors from across the country to our new showroom to show in person how we can achieve this and look forward to many more meetings in the coming months."
For further information, please contact a Quadrant2Design Design Consultant: phone +44 (0)1202 650 333 or email designteam(at)quadrant2design(dot)com.