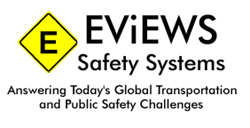 Westlake Village, CA (PRWEB) August 12, 2013
EViEWS Safety Systems, Inc. (EViEWS), a provider of leading-edge traffic technology for the rapidly evolving Intelligent Transportation Systems world, signs up TwinCrest Technologies, a premier Texas transportation distributor, to represent EViEWS' full product line in the emerging markets of Texas, Louisiana, and Mississippi.
TwinCrest Technologies, a leader in representing ITS (Intelligent Transportation Systems) manufacturers will be representing EViEWS cutting edge ITS technologies. EViEWS offers emergency preemption, emergency prioritization, transit signal prioritization, as well as their unique product line of dynamic message signs and traffic time synchronization cards to the growing ITS market.
"We look forward to having TwinCrest Technologies represent EViEWS, particularly as our Next Generation Emergency Prioritization Systems installed in Harris County, TX, take hold and are beginning to gain industry recognition," states EViEWS President, Randy Lloyd.
About EViEWS Safety Systems, Inc.
EViEWS was founded in conjunction with NASA's Jet Propulsion Laboratory and the California Institute of Technology, which provide an extensive resource of developing next generation solutions. The resulting technologies have been integrated into EViEWS products to provide significant enhancements to public transportation and safety systems. This resource affords EViEWS with the capability to handle future government needs as well.
EViEWS is becoming the standard platform for a new era of advanced wireless smart infrastructure technologies that incorporate intelligent traffic, transit, and light rail systems with messaging and communications that enable municipalities worldwide to provide first responder preemption, transit prioritization, traffic congestion mitigation, emergency evacuation coordination, multi-agency communications interoperability, and data collection. EViEWS customized, versus off-the-shelf approach, to solving complex public safety and homeland security problems, enables it to offer cost-effective solutions to municipalities, traffic engineers and metropolitan planning organizations. For more information, visit http://www.eviewsinc.com.
Media Contact: Randy Lloyd
Email: globalits(at)mac(dot)com