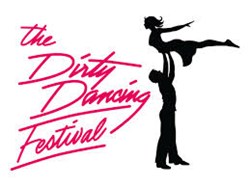 Lake Lure, NC (PRWEB) August 12, 2013
Don't miss this year's Dirty Dancing Festival at Lake Lure, August 16th -18th.(http://www.dirtydancingfestival.com). Lake Lure is where the iconic 80's movie Dirty Dancing was filmed. This beautiful man-made, 720-acre lake, which is nestled in trees and surrounded by mountains, makes the perfect setting for a North Carolina mountain experience.
The Dirty Dancing Festival includes dance lessons, music, games and plenty of parties. Of course a celebration like this can't be complete without including a screening of Dirty Dancing, the coming of age movie from the 1980's which will be shown on an outdoor screen.
While attending the festival, stick around and enjoy some of the other activities that are offered. Get your favorite rod and reel to go fishing. Lake Lure has both cool and warm water fish.
The Rocky Broad River is ready for those adventurous enough to take on a whitewater excursion. Plenty of boofs, slots and rapids to enjoy. Enjoy the scenery in a 3.5 mile run down the river. Dry off at Chimney Rock, North Carolina, have lunch and go hiking in the 1000-acre state park.
When it's time for lunch or dinner, you can board a luxury pontoon boat and enjoy a romantic and relaxing meal. Enjoy gazing at the clear water and stunning surroundings as you unwind from a great day of play. With all of these fun things to do, wouldn't it be nice to stay right here? Wouldn't it be nice to have this play ground at your fingertips every day?
Contact Blue Ridge Communities and take a tour of Vista at Bills Mountain.