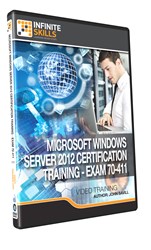 Prepare for Microsoft Windows Server 70-411 exam at your own pace.
(PRWEB) August 15, 2013
Software training firm Infinite Skills Inc. this week released its "Microsoft Windows Server 2012 Certification - Exam 70-411 Tutorial," a course designed to establish the necessary skill set for administering a server running Windows Server 2012, covering all the content tested in Exam 70-411.
The Microsoft Solutions Associate certification (MCSA) is the first stage in certification for Windows Server 2012 Administration. The three required tests for MCSA certification, 410, 411, and 412, require applicants to demonstrate a primary set of skills relevant across multiple solution areas in a business environment.
Microsoft Windows Server 2012 Certification - Exam 70-411 Training Video
In covering all the skills required for the 411 test, Infinite Skills' "Microsoft Windows Server 2012 Certification - Exam 70-411 Training Video" emphasizes independent thinking and creative problem solving. The course teaches a basic skill set through students can then apply toward problem solving in their own lab environments.
Course author John Savill has been training others in Windows technology for more than twenty years. He has been an 11 time Microsoft MVP, a senior contributor to Windows IT Pro Magazine, and a regular speaker at major technology education events such as Windows Connections. In all his work, Savill explains, his focus has been on communicating complex technological concepts to large audiences in an easy to understand manner.
Here, Savill focuses his high-energy, task-oriented teaching style toward teaching all the skills and techniques involved in administering a Microsoft Server 2012 network, covering how to manage file services, deploy and patch Windows Server 2012, and manage advanced active directory and networking.
Other key topics include how to organize and control storage space and protect data, which also helps solve compliance problems. Chapters also cover advanced DNS configuration, troubleshooting, building an active directory, cloning primary features, working with group service accounts, and how to create group policy templates, which allow administrators to create custom templates serving their specific group management needs.
"What these exams test is your understanding of technology and your ability to use that technology and understand when something should be used," Savill says. "This course emphasizes practical use, communicating both technical knowledge and problem solving skills that allow you to effectively administer a Windows Server 2012 network, and, as a side effect, pass the exam."
Free demo videos and a full list of course contents can be found on the Microsoft Windows Server 2012 Certification - Exam 70-411 Tutorial training page of the Infinite Skills website:
http://www.infiniteskills.com/training/microsoft-windows-server-2012-certification-training-exam-70-411.html .
Infinite Skills offers its Microsoft Windows Server 2012 Certification - Exam 70-411 Tutorial either as a DVD or a direct download from the company website at a retail price of $99.95. All Infinite Skills titles and formats are compatible with both Mac and Windows operating systems, and shipping is available around the globe. Infinite Skills tutorials are supported by project files which correspond to examples in the videos.
About Infinite Skills Inc.
A leader in the field of software training, Infinite Skills strives to offer the highest quality training available at an affordable cost. Infinite Skills tutorials are task-oriented instructional videos, teaching complex skills by providing hands-on examples, guiding users as they carry out critical objectives. Infinite Skills offers a comprehensive range of software titles available as DVDs, digital downloads, and iPad editions, keeping with company aim of delivering professional training to customers anywhere they want to learn.