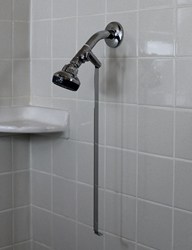 Water Select® Is Conservation With Immediate Effect.
Dallas, TX (PRWEB) August 08, 2013
Apartment renters and condominium owners will benefit the most by utilizing the most up to date water conserving measures which, in turn, will decrease energy used for pumping water, heating the water and removing it via sewage. Reducing water and energy services in apartments & condos reduces utility bills, whether paid directly, or indirectly. If utilities are included in the apartment rent or condominium fees, then across the board utility savings will contribute to lowering monthly utility bills which will help cap increases that are always passed on to the tenant in some form or fashion.
Water Select® offers contemporary apartment and condominium owners additional relief on the bottom line amount of water a single person uses in daily showers with new green conservation technology. Across the country, but most especially in the drought stricken southwestern US, it is of utmost importance that everyone, including apartment dwellers, contributes to conserving what precious water is left in the rapidly dwindling lakes and aquifers. When lakes dip to Drought Emergency levels algae has the perfect condition to grow and expand. Algae saturated water is not preferable for drinking or bathing and brings with it a whole new set of plumbing problems.
Apartment and condominium residents are equally responsible for water conservation, just like homeowners and businesses. There are as many apartment showers as there are showers in homes that could use this new water saving technology. If people are going to get a grip on the problems associated with lack of H20 then everyone is needed to participate in water conservation.
A 5-minute shower, which is typical, uses approximately 30-gallons of water with a non-conserving showerhead and 15-gallons of water with a low-flow showerhead. Water Select® can show people how using the valve in conjunction with 2.5 gpm showerheads will decrease the flow without decreasing the standard pressure. Apartment and condominium owners know that if a water saving device in any way diminishes the shower experience that the tenants will either remove or alter said modifications to their liking. That problem does not exist with a Water Select® showerhead valve.
What is the Retrofit Strategy?
Hardware modifications, such as adding a Water Select® valve to any existing showerhead, is a proven method to reduce the bottom line costs associated with taking a shower. The cost is easily recouped in a matter of months and installation takes only a matter of minutes, typically requiring no tools. Installing Water Select® valves in showers is not a difficult task and in the long run will save apartment and condominium owners quite a bit of money and make huge inroads towards saving water for tomorrow.
Check out http://www.WaterSelect.com for a full explanation on how apartments can go green and save energy with new technology like the Water Select® showerhead valve, that goes above and beyond the water conservation offered by low-flow showerheads. Showerheads in general do not offer flow-control options. Many times during the course of a shower it is feasible, even preferable, to reduce the flow of water while tasks; such as: soaping-up, shaving, brushing your teeth, bathing children, bathing pets, bathing the elderly, or cleaning, are being performed. Controlling the flow of water in this manner is a new and innovative water saving component which will save the average household more than 2,300 gallons of water per year. This is great water saving technology for apartments and condominiums.
Apartment renters, and apartment landlords/owners, and condominium owners will benefit from educating tenants on how to take an efficient shower and the relationship between the amount of water used and the cost to live on the property. Even if a tenant does not utilize the flow control option, the landlord is realizing a 20% across the board savings associated with each shower taken with a Water Select® valve used in conjunction with 2.5 gpm showerheads. A Water Select® showerhead valve helps make the practice of conserving water and reducing energy usage in condominiums a daily routine.
Water Select® is an industry leader in the field of water conservation, encompassing facets of the daily shower. Check out http://www.WaterSelect.com today and see how professionals in the water resource industry have illustrated ways to save water, sewer, electricity/gas and $$$ money. Water Select® is Conservation with Immediate Effect.