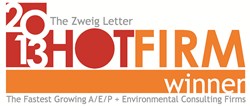 Portland, OR (PRWEB) August 08, 2013
Cardno secured the #1 ranking on the 2013 Zweig Letter Hot Firm List, which ranks companies within the United States and Canada according to their three-year growth rate in gross revenue.
The list has been compiled since 2000 by ZweigWhite, a leader in enhancing business performance for architecture, engineering, and environmental consulting firms. Half of the ranking is based on percentage growth, with the other 50 percent on dollar growth.
Cardno Managing Director Andrew Buckley said the top ranking was the result of a diverse strategy of combining carefully planned mergers and acquisitions with organic growth.
"Our success in the region is built on offering our clients a number of services across different markets," he said. "We also targeted complementary businesses with new geographical and skills coverage and a good cultural fit."
In 2012/13, the company added merger partners Cardno MM&A, Cardno EM-Assist and Cardno ChemRisk to its American operations.
In addition to the Zweig list success, Cardno is now ranked the 10th largest pure design firm in the United States, according to the 2013 Engineering News-Record's (ENR's) Top 500 Design Firms in the country. Based on proforma revenue as of December 2012, the American market represented 53 percent of Cardno's global revenue.
Mr. Buckley said he was increasingly confident about the economic outlook for the region.
"Growth is forecast to improve in the United States, where the environmental sector is still strong, while there are also signs of improvement in the residential development sector," he said. "Our team thrived within a struggling economy, and I am looking forward to the next year, as we will continue to focus on client needs as well as expanding cross-selling to provide additional organic growth."
Cardno's growth globally has earned it improved rankings for the third consecutive year on additional ENR top firm lists.
On the 2013 (ENR's) Top 150 Global Design Firms list, Cardno is ranked the 35th largest firm in the industry worldwide, up from #49 last year and #60 in 2011. This list measures firms based on their total global design revenue.
In addition to these overall rankings, Cardno also achieved the following rankings in other categories:
#4: Top 10 International Firms operating in the US (ENR Top 150 Global Design Firms)
#8: Top 10 Hazardous Waste Firms globally (ENR Top 150 Global Design Firms)
#10: Top 100 Pure Design Firms in the US (ENR Top 500 Design Firms US)
#15: Top 20 Industrial Processing/Petroleum Firms in the US (ENR Top 500 Design Firms US)
About Cardno: Founded in 1945, Cardno partners with public and private clients to solve engineering, environmental and social challenges. With over 230 offices in the Americas and 300 offices worldwide, Cardno provides clients with access to over 8,000 professionals focused on delivering customized consulting solutions to plan, design and construct social and physical infrastructure. Cardno currently ranks 26th on Engineering News-Record's 2013 Top 500 Design Firms. Visit http://www.cardno.com to learn more.
Cardno is listed on the Australian Securities Exchange [ASX: CDD].