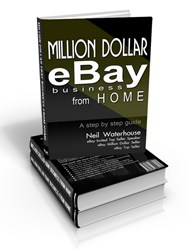 The UK is will prove that we have the ability to operate in markets worldwide to help foster meaningful relationship with Waterhouse Research users and the wholesalers we connect them with. - Neil Waterhouse
Melbourne, Australia (PRWEB) August 13, 2013
Waterhouse Research is now identifying the best selling items on eBay in the UK. By including the UK in their algorithm of top selling online products, Waterhouse Research is looking to benefit more people worldwide with their unique item identification platform.
Waterhouse Research is an eBay selling research center that focuses on finding not only the most profitable but also high volume products in order to produce the biggest bottom line for an online selling business. Now that the Waterhouse Research team is actively monitoring sales in the UK they can help people grow their company sales and revenue.
"People in different places want different things, so it makes sense for us to look into those markets individually to see what people are not only selling, but what consumers are buying," Neil Waterhouse, founder of Waterhouse Research, said. "The UK is will prove that we have the ability to operate in markets worldwide to help foster meaningful relationship with Waterhouse Research users and the wholesalers we connect them with."
No longer will people in the UK have to ask, "What do I sell online?" Waterhouse Research is providing the answer to that question by utilizing their network of 24 servers that tracks upwards of 4 billion keywords in order to effectively determine top selling online products. Waterhouse Research tracks items for 3 to 12 months and ensures that they sell for at least double the wholesale cost of an item. Once an item is approved it is listed on WaterhouseResearch.com for subscribers to take advantage of.
The algorithm that Waterhouse Research uses not only scans eBay, but also Amazon and many search engines to see find items that have a minimum of 30,000 searches per month and offer a 100 percent return on investment. Waterhouse Research also does not distribute information on brand name items. This is to prevent fraudulent products from being sold as the real thing.
Along with the UK, Waterhouse Research watches the markets in the USA, Canada and Australia. The monthly profits in any one market for one product can range from $300 to upwards of $15,000 under normal selling circumstances.
To learn more about how to sell on eBay using Waterhouse Research's proven technique visit their website, http://www.waterhouseresearch.com.
About Waterhouse Research
Waterhouse Research is the brain child of Neil Waterhouse, author of Million dollar eBay Business From Home – A Step By Step Guide.
The concept of Waterhouse Research began its creation back in 2002 by Neil to help him find out which items (keywords) were the hottest items on the internet. Neil would track these keywords and see which keywords reported a sale. The goal of Waterhouse Research is to help eBay sellers make more money on eBay by showing eBay sellers which items to sell and reveal the suppliers. Our mandate is to help eBay Sellers make more money. Our customers vary from new customers learning how to sell at eBay to top 500 eBay businesses. Our customer service team is here to help you. Their job description is "To make you smile!" and we find the best way to do this is help our customers make more money. We take pride in our work and offer a no questions asked 100% money back guarantee on everything we do.