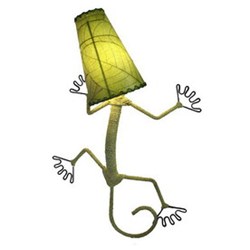 Sussex, WI (PRWEB) August 10, 2013
The Gecko Wall Lamp from Brightandbold.com is a funky, colorful addition to any home. With a frame constructed of strong, durable wrought iron and coated in powder to maintain its color, the light's main gecko body is wrapped in abaca twine for a unique look. Abaca is an ecofriendly sustainable fiber that can be regrown in a short period of time.
The Gecko Wall Lamp's shade is created from fossilized coca leaves that absorb dye at different rates. Thus, the lamp emits a variety of colors, brightly lighting any room. The sealant used to adhere the leaves to the shade helps preserve the leaves' colors and durability.
Brightandbold.com's latest addition to its collection of eco friendly home decor products comes from Eangee, a company dedicated to ensuring their products are made fairly and with little harm to the environment. Eangee defines sustainability as meeting the needs of today without compromising a better tomorrow. Products highlight renewable materials with lamps and decor made from fossilized cocoa leaves, abaca rope, nito vine and durian fruit fiber. Lamps are easy to maintain and require no special handling. Should they need to be cleaned, one only needs a dry cloth or duster.
Brightandbold.com offers free shipping on Eangee home decor. The lamp uses one bulb and features a convenient push switch. It is sold in green, natural, purple, red, and multicolored patterns.